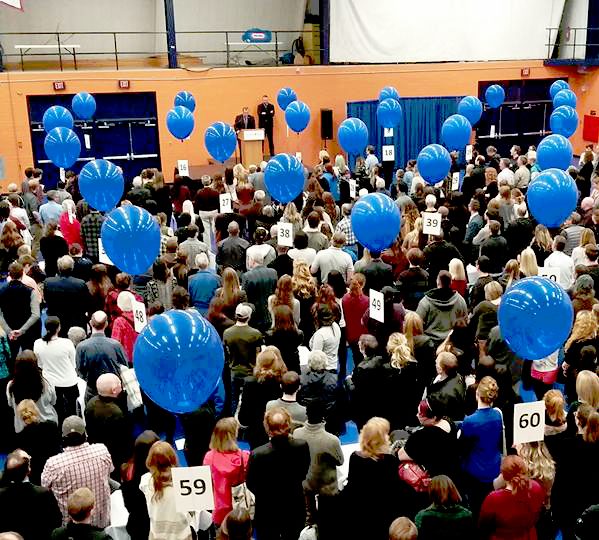 574 students shared in more than $614,000 during the annual Foundation award presentation on Nov. 24 in the TRU Gym. This marks an increase of $75,000 from last year, making it the most successful campaign for student assistance yet.
This year, 25 new annual awards and eight new endowed awards were introduced, totaling 957 Foundation awards given out and $1,067,243 distributed. Another 20% is expected to be dispersed between now and the end of the fiscal year, which ends March 31, 2017, for a grand total of $1,319,000.
Third-year nursing student Katrina Boisclair thanked the room full of donors and spoke candidly about how grateful students are to receive such an impactful gift.
"My story is not a unique one. Whether we work, support families of our own, focus on academics, or some combination of those, all of us struggle in different ways to finance our education, which makes receiving an award such an amazing experience," she said.
"This is the best night of our year, this is what we all work for: bringing donors together with students and changing both of their lives. The donor providing hope, faith and funding and the student building a better life for themselves and their family through education and training," said VP Advancement Christopher Seguin.
TRU 'A Way Home' for youth
Meanwhile, two students are receiving a new kind of bursary thanks to a partnership between TRU and a local organization that aims to support formerly homeless youth or youth aging out of care.
The recipients of the TRU High-Need Access Bursary are both young women, one entering the Human Services Diploma, the other entering the Bachelor of Social Work.
It's all possible through A Way Home—a local committee implementing Kamloops' Youth Homelessness Action Plan. The Education and Employment action team—an A Way Home subcommittee—provides centralized access to a network of professionals dedicated to assisting youth explore their goals.
The bursaries are drawn from a larger pool of funds and are applied as a tuition credit up to a maximum of $4,000 over two terms. Up to five High-Need Access bursaries are available each year.
To be eligible, the youth must be settled in stable living conditions, something that is coordinated by Wrapforce, another one of the A Way Home action teams dedicated to securing housing. Youth are nominated by A Way Home and preference is given to former BC Youth in Care.
Youth Homelessness Action Plan Manager, Katherine McParland,  is thrilled to see the partnership finally come to life.
"To see these individuals as students, is exciting. A Way Home takes a holistic approach to ending youth homelessness, and by providing supports, mentorship and funding for education, we are helping them achieve their goals and become independent. This funding is vital to be able to do that."
Foundation Board Chair Rick Sallis spoke to the sentiments of the occasion. "Today is the day our group works for all year and the reason donors contribute to the TRU Foundation—to be able to provide financial support to students in the form of scholarships and bursaries," he said.
"We could never begin to measure the importance that donors represent to the lives of students and their ability to obtain an education at TRU."
Award highlights
Domtar Mill Awards—Six new awards of $500 available for the top male and top female students in the Instrumentation Mechanic, Millwright, and Pipefitting Foundation Programs.
Sulkowski Family Entrance Bursary—Two to five $600 – $1,500 entrance awards given annually to students in financial need who require tools and/or equipment to enter their program, and one $1,000 award to a fourth year student with strong grades who demonstrates financial need.
Dr. Lloyd H. Nixon Memorial Pre Med Award—A $2,000 award provided to a fourth year student in the Pre Med program. The intent of the award is to help a student who will be enrolling in medical school after graduating from TRU.
More information
Christopher Seguin
Vice-President Advancement, Thompson Rivers University
Phone: 250-574-0474
Email: cseguin@tru.ca