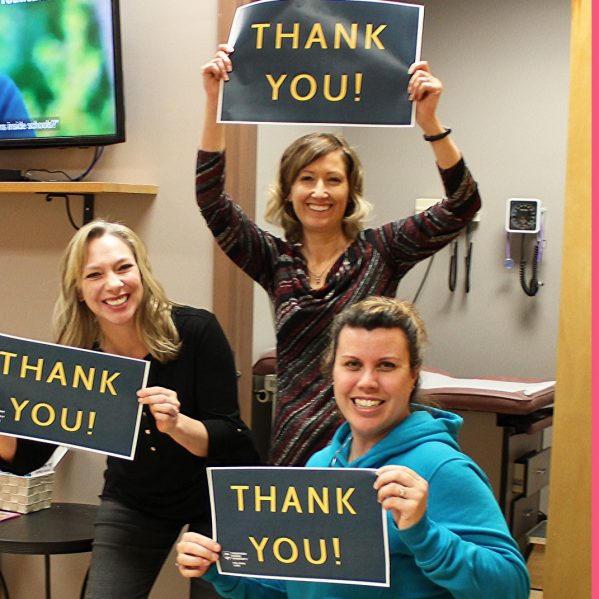 It was two years ago on Nov. 27 that the TRU Health Centre became the Williams Lake and District Credit Union Community Health Centre (WLDCU).
Since then, there have been significant changes, including the creation of a new exam room and the presence of nursing students working and practicing there throughout their program.
"This has been a great two years of transition," said nurse practitioner, Sandi Lachapelle. "There have been lots of positive changes thanks to the generous donation from the Williams Lake and District Credit Union."
"The Credit Union is pleased to be able to partner with Thompson Rivers University to offer this important service to Williams Lake and area. Funding the Community Health Centre allows us to support two high priority areas—healthcare and education. We are familiar with the primary care service gaps within our community and see the centre as a vital piece of the local healthcare framework," said Williams Lake and District Credit Union CEO, Jim Zimmerman. "In addition, we see the value of providing hands-on experience for our local nursing students, a unique opportunity that will enhance the value of their educational experience at TRU Williams Lake."
In 2014, the credit union pledged $100,000 over 10 years to the health centre, which had only been open for one year at the time. In 2014, the centre was the only walk-in clinic in Williams Lake and the only option for residents without a primary health care provider. Now it's still the only option for those without a family doctor, but it can no longer operate as a walk-in clinic.
"We are an important alternative for those without a family doctor," says medical office assistant Chantelle Pierce.
To try and meet the demand from the community, a new exam room was recently added to improve the efficiency of the centre's day-to-day operations.
Lachapelle often mentors new nurse practitioner graduates and having a second exam room will allow her to increase the number of patients she sees each day. "Having two exam rooms will allow me to continue to see other patients while the new graduate NP is working and talking with patients in the other room."
The renovation was paid for by the credit union, along with a drywall donation from Home Hardware, and Andre and Sylvain Lachapelle, who completed most of the drywall work.
"This health centre would not be possible without the support of our community," says Dr. Ray Sanders, executive director, TRU Williams Lake. "Its success is another example of how Williams Lake supports its university and how we can work together to fill the needs of our city."
As important as the health centre is to the community, it also serves an important need for the nursing program and its students at TRU Williams Lake. Visitors to the health centre can often find a nursing student completing a work study or a portion of their clinical practice.
"I've learned so much from Sandi," said Jeneen Henderson, a second year practical nursing student completing a work study position. "Working here has made me want to continue my education and become a nurse practitioner."
"The TRU Williams Lake nursing programs utilize the health centre both as an agency partner in providing students with clinical placement opportunities as well as an essential student support service on our campus," said TRU Williams Lake nursing program coordinator Rhonda McCreight. "Students have been able to access pre-requisite program health care services in a convenient and efficient manner, without having to book appointments at multiple agencies in town. The myriad of clientele in this centre provides students with an amazing overview of the role and practice of nurse practitioners in a primary care, community setting. I'm not sure how we did without this service in the past."
The WLDCU Community Health Centre is available to TRU students and community members without a family doctor. They are also available for sexual health services. The centre is open from Tuesday – Friday, 9 a.m. – 5 p.m. and appointments can be made by calling 250-392-8033.
More information
Myrissa Krenzler
Marketing Coordinator
Thompson Rivers University – Williams Lake Campus
250-392-8048
mkrenzler@tru.ca