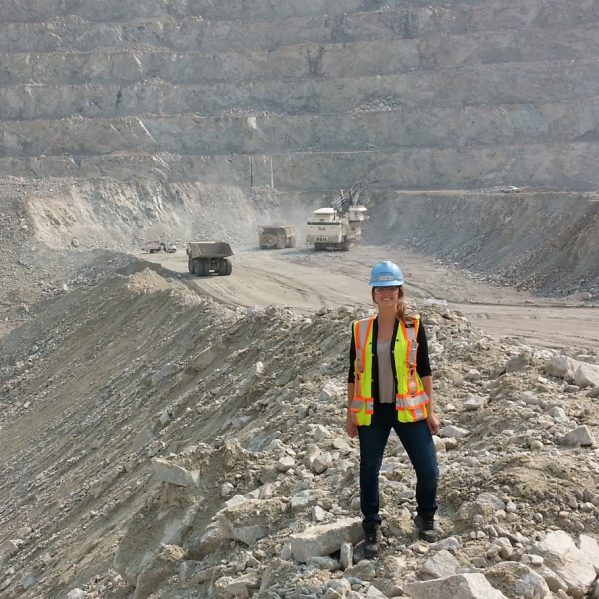 Sarah Cooke's educational journey has taken her on an interesting path involving drones, archaeology and geographic information systems (GIS).
She recently graduated with a Bachelor of Arts in geography and environmental studies from TRU and a Bachelor of Science in Geomatics from the University of Gävle. In the past six years she completed the double degree program, studied abroad in Sweden and finished three co-op terms with two different companies.
Two of her co-op terms (eight months) were spent at Highland Valley Copper, an open pit mine in nearby Logan Lake, BC, where she worked in the water and tailings department as a GIS technician. In that role she was mapping, collecting data on site, and working with the safety and environmental departments. Her final co-op term was with the Ministry of Forests, where she read and interpreted existing maps and managed digital land data entered into a GIS database.
"Students who don't take advantage of the opportunities with co-op placements during university are missing out," said Cooke. "Simultaneously earning university credits while gaining hands-on learning experiences and getting paid was definitely a great part of my TRU experience."
While she was studying abroad in Sweden at the University of Gävle, Cooke learned about aerial archaeology when she heard of Sarah Parcak. Parcak, an aerial archaeologist, had been using remote sensing to map out where there may be unearthed burial sites and where raiders had been looting in Egypt. Soil composition is often analyzed and studied in aerial archaeology, as captured images show researchers where there are anomalies in the land and where something may still be buried. The process archaeologists use in analyzing these images has led to the discoveries of lost building sites around the world.
Cooke was immediately inspired by Parcak's work and wanted to learn more about the applications of aerial archaeology, especially how it could be utilized in Canada.
During her thesis, Cooke used remote sensing to study aerial images of Lillooet, looking for signs of underground pit houses. Cooke aims to discover unknown sites and then work to preserve the area.
"It's all about conservation. If we don't know that something significant is buried there, how will we protect it during potential development of that land," she said.
Lost temples and important archaeological sites have been discovered in the Middle East, Greece, Europe and South America using aerial archaeology integrated with laser imaging. LIDAR, which stands for Light Detection and Ranging, is a remote sensing method that uses light in the form of a pulsed laser to measure ranges (variable distances) to the Earth.
"This laser measures the difference in elevation. Combining that with satellite imagery, you start to get a more holistic view."
Cooke heard about the work that the University of Northern BC in Prince George is doing with mapping Indigenous sites using drones and was happy to learn that aerial archaeology is becoming more of a popular practice in BC. Cooke believes that there is still a great deal of work to do to identify Indigenous sites in Canada and sees this process potentially beneficial to researchers in this field.
She is currently working as a GIS consultant in Kamloops completing mapping projects for a variety of companies. She's also deciding on where to attend grad school, applying for programs that will compliment her current experience and education, like the Master of Spacial Analysis from Ryerson University.
"I'm looking at different master's programs all over Canada and the world and may even return to my home country of South Africa to go to the University of Cape Town," explained Cooke. "Whatever I end up doing, I hope to continue to combine archaeology and GIS."
She is looking forward to her next move but will remember her time at TRU fondly.
"Kamloops was a great place to go to school. It's a friendly city and the university is no exception," explained Cooke. "Because of the small class sizes, you really get to know the faculty and other students, not just in a class setting. And there are a lot of great opportunities at TRU, like being part of the TRU Geography Society (TRUGS)."
Cooke was president of TRUGS for a few years and says the club went beyond shared academic interests as it offered students the opportunity to go on hikes and camping trips that allowed them to socialize as geography students in natural environments.
When asked why a student might consider geography, she commented that its interdisciplinary nature as related to the earth and the environment allows for so many different paths to take.
"If you're passionate about the earth and sustainable development, take geography to gain a better idea of what can be done to help the planet and how you can help in the efforts. You'll also learn about green energy, which will be important for just about anyone."