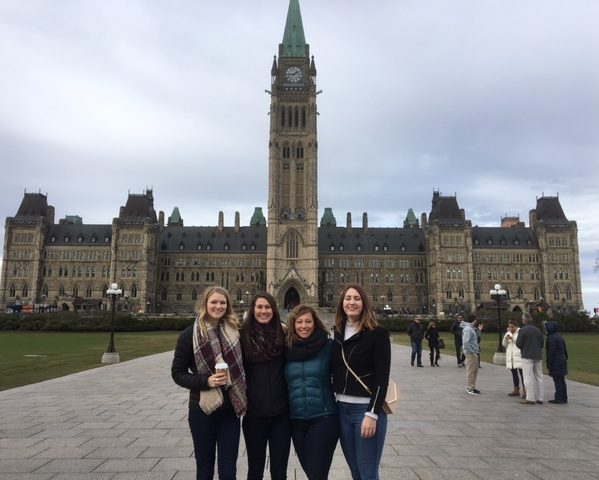 *This article was updated with corrected presenter information on Nov. 22
Three TRU students are in Ottawa this week promoting the Study Abroad program at the 50th-annual Canadian Bureau for International Education Conference (CBIE).
Study Abroad ambassadors Madison Ellis, Aaren Ritchie-Bonar and Tatiana Gilbert presented at this year's 50th-annual conference on "The power of returning mobility students: leveraging the student experience."
Leveraging the returning student experience has become a fantastic study abroad marketing tool, highlighting the benefits of mobility, self-reflection, and global understanding. These experiences complement internationalization strategies, evolve engagement activities, and impact the student capacity for intercultural understanding.
The panel of TRU ambassadors showcased how social media activities are enriching their learning beyond the classroom and transforming our campuses, communities, and partners.
Co-presenting the hour-long session was TRU's interim manager of Study Abroad, Karie Russell, and Colin Doerr from the BC Council for International Education.
"The team of students and I presented yesterday and it was extremely well received with many representatives from Canadian institutions coming up after the presentation to compliment the students on an amazing job," said Russell. "This conference is a big deal for universities across Canada, I am really proud of them."
All three students studied overseas—Gilbert spent one semester in Australia, Richie-Bonar studied for one semester in Belize and Ellis lived in France for two semesters.
A recent Globe and Mail article  discussed how fewer Canadian students are opting to study abroad. The TRU ambassadors hope to showcase how student-led initiatives and using tools like social media can benefit universities at large.
Ellis will be a member of the closing plenary panel discussion, which will see over 400 international education professionals from universities in Canada in attendance.
"This is a wonderful opportunity for Madison, but also great recognition for TRU at this national conference on International Education," said Russell. 
The CBIE is a non-profit organization promoting study abroad exchanges, scholarships and internships for students in kindergarten to university. It also promotes the interests of international students studying in Canada. Read about the new Learning Beyond Borders initiative, launched at the conference.