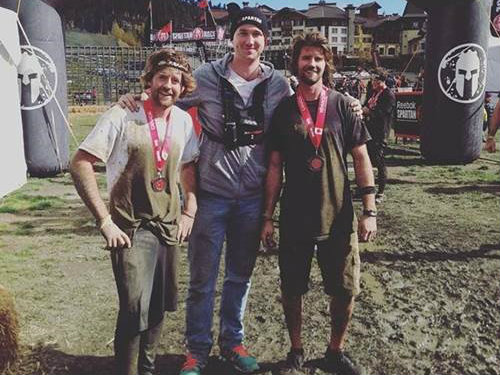 Ian Bolton is carving his own path at TRU—and discovering his potential with each experience.
From laddering a diploma into a degree, learning hands-on at a summer internship and preparing for a study abroad semester in Spain this winter, the Surrey native is customizing his learning path by taking advantage of the many opportunities that TRU has to offer.
"The Sport Event Management Diploma is what attracted me to TRU," said Bolton, a sport and outdoor enthusiast who always wanted to get into event planning.
"The program was very hands-on and the course material was directed at sport-specific events—unlike any other program I'd heard of. Our instructors had extensive background in the field and we had endless opportunities to get involved in events."
For Bolton, that ended up taking the form of a paid summer internship this year with the adventure race organization Spartan, where he helped with event set up and tear down, monitored stations and oversaw teams of eight to ten volunteers at several of the organization's races including Sun Peaks.
"I really loved it. I am a huge people person. I had to make sure each volunteer had the materials and know-how to accomplish their job. I enjoyed that and I learned how to keep them motivated," he said.
"They offered me a full-time job but I had to turn it down because I wanted to return to school to finish my degree."
Bolton is entering his final year at TRU. Thanks to the ability to ladder diploma credits into a degree, the aspiring public relations professional chose to enter the communications and public relations major in the Bachelor of Arts program last year.
"I want to get into sports PR or communications. My dream job would be working the PGA tour on the event management side, or be a sales rep for a golf company," explained Bolton.
This winter, he will be adding an international learning experience into the mix. Bolton is headed to Universidad Autónoma de Madrid in Spain for his final university semester, an opportunity available through TRU's Study Abroad program.