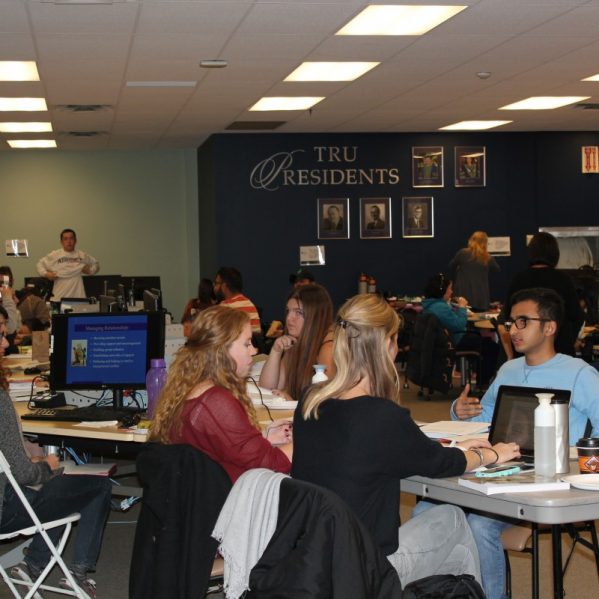 "Nothing is so fatiguing as the eternal hanging on of an uncompleted task." – William James
"If it weren't for the last minute, nothing would get done." – Rita Mae Brown
What are your academic goals? Are you meeting them? The semester is racing by, and it can be a challenge to keep track of everything. Ultimately, things start to pile up. Looming due dates and exams stand between you and a well-deserved and hard-earned Christmas holiday.
Don't you want to kick back in front of a roaring fire, relaxing with an eggnog in hand—confident that your efforts were not wasted? Feeling perfectly satisfied with your achievements and exemplary grades, recharging for the semester to come?
Blame it on our short attention spans, but procrastination can be a true hindrance to successfully completing tasks and managing time. Next time you study, keep track of how many times you interrupt your own work flow with social media check ins, texting, non-school related conversations with study partners, and general distractions. Our bedrooms suddenly NEED to be cleaned. Long-ignored, unessential tasks become top priorities. The immediate urge to tackle The Godfather trilogy and perfect a gluten-free muffin recipe. And then we cry about not having enough time–if only time-wasting was a course; Procrastination 101 would be the easiest A+ ever.
As students, not only are we learning about the subjects, we are developing our own personal academic styles. Learning how to learn about what we just learned…does that give anyone else a headache? It's okay! It happens to all of us. Challenges are vital to our academic growth; it's how we overcome those obstacles that count. Campus support is available in spades: Writing and Math Centre, Student Success and academic counselling. Whatever your weakness is—it can be developed into a strength.
Jenna Goddard, one of the organizers of the 2016 Long Night Against Procrastination (LNAP), says that the evening started off with goal setting. "We encourage the participants to consider what they hope to achieve—like finishing one or more papers, starting an assignment, or preparing for a test—we can help them accomplish those tasks."
Tutors were available for twenty minute sessions from 8pm to midnight. Library staff and faculty were on hand as well to support the completion of assignments.
Over 340 students were spread throughout the library, some working solo, some in high-spirited study group sessions. Various writing, research, and health-related workshops took place throughout the night. Believe me, you haven't lived until you've learned about proper quotation and paraphrasing practices at 2am from a teacher dressed like a giant frog.
Food and refreshments were offered throughout the night, so no one could possibly blame hunger or thirst as a distraction.
Those who remained until the wee small hours of the morning were rewarded with the Survivor's Breakfast at 6am.
All-night study sessions shouldn't be a regular occurrence; we all know that a solid night's sleep is a cornerstone to good health. Still, this night was a fantastic opportunity to abolish procrastination, connect with your academic community and discover the thrill of writing.
Two engineering students attending one of the workshops were pumped up, "It's been a slice; this is a great event", says Garrett Reid.
McKinley Langudeoc remarked, "the semester has been tough, but I'm certainly smarter now than I was a couple months ago."
The night was jam-packed with morale-boosting activities. Amid the reading, writing and researching, belly dancing classes and eyebrow threading was on offer.
A new initiative this year, LNAP offered a "safe walk" option at 11pm, 2am and 4am. When students had enough and were ready to head home—a team of people walked them to their car or residence.
"The sense of comradery and community" is what Jenna enjoyed the most about LNAP. "That 'we're all in this together' vibe is very affirming for students."
Long Night Against Procrastination was hosted at the library on Thursday, November 3rd from 8:00pm to 8:00am. The spring session is set for March 16th. For more information visit the website.