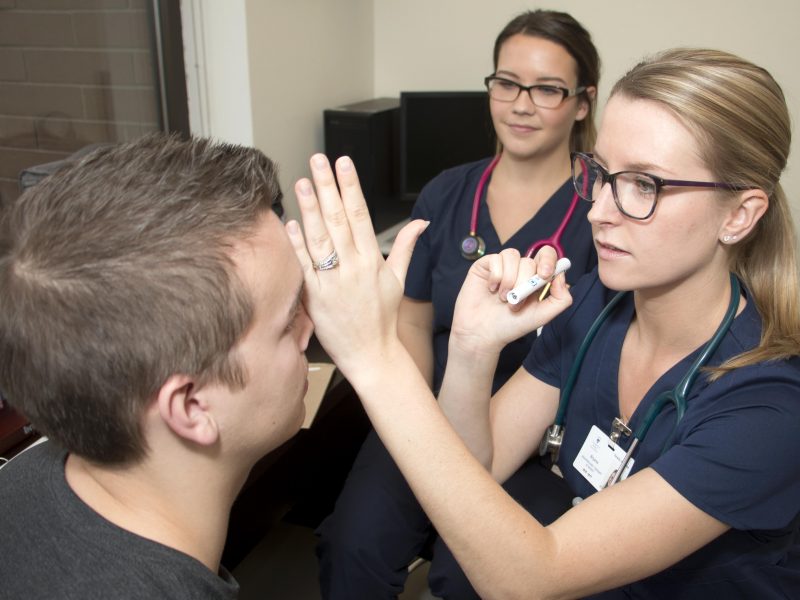 Calling all those with chronic sleep disorders like sleep apnea and snoring: TRU's sleep centre wants to hear from you.
"We used to laugh at snoring and we shouldn't. Snoring is an indication that your airways are being obstructed and it has been demonstrated that people who regularly snore have medical issues," said Les Matthews, the centre's director and a faculty member in respiratory therapy. "So it should probably be investigated so medical issues can be ruled out," he said.
The centre — operated by the respiratory therapy program and overseen by faculty and staffed by students — is in the throes of another year and with it, in need of a few dozen patients of all ages and backgrounds. The centre gives students the opportunity to apply their classroom learning in a real-world and hands-on way while honing their communication skills with a range of people. Meanwhile, patients get a handle on sleeping better and minimizing health risks associated with snoring and sleep apnea such as high blood pressure, stroke, heart disease, depression and fatigue.
The centre is free to use, though a doctor's referral is required. Being a day clinic, there is no need to stay overnight and there is no charge to borrow equipment. Respiratory Therapy is under the umbrella of the Faculty of Science.
Sleep apnea is pauses in breathing that can last for 10 to 30 seconds and can occur frequently through the night. Effects can be waking up with a headache, feeling tired through the day, experiencing mood swings, having poor concentration and falling asleep while driving. Obstructive sleep apnea is the most common type of sleep apnea and occurs when the soft tissue at the back of the throat relaxes and collapses, causing the airway to become blocked.
The centre opened in 1999 as a project created by Matthews and a group of students. Proving to be popular, it continued and in that time, has served thousands of patients and hundreds of students.
A portion of the success is because companies donate equipment, local doctors lend their experience and alliances have been created with clinics and sleep surgery centres in BC.
More information on becoming a patient

Les Matthews
250-828-5434
lmatthews@tru.ca
National Respiratory Therapy Week, Oct. 23-29
Watch for information booths around campus and at Royal Inland Hospital.
Stop by to learn more about the profession and different career opportunities in BC, Canada and the world. Respiratory therapists work in hospitals, health centres and care homes. They can be found in emergency rooms, operating rooms, intensive care units, neonatal care units and more.
"Respiratory therapists work specifically with cardio-pulmonary diseases and most often in hospitals and in acute-care settings. We do testing to detect different lung diseases," said student Bryana Thacker.
In high-adrenaline environments like emergency rooms and operating rooms, they play key roles.
"If a trauma comes into the hospital, we're part of the team that accepts the trauma. So we will be at the head of the bed controlling all the breathing," said Thacker. "The doctor will instruct us on what to do, so we may assist with an intubation (inserting a tube through the mouth and into the airway) or do the intubation itself. We may put an oxygen mask on patients to help them breathe better. Often we get put onto CPR because we are the cardio-pulmonary specialists and know what needs to be done."