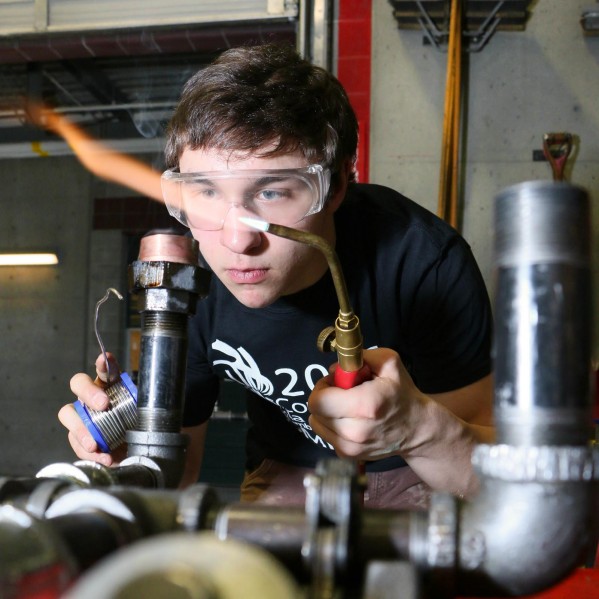 KAMLOOPS—The British Columbia government announced today an investment of $4.16 million in Thompson Rivers University (TRU) for skills training in high-priority trades seats.
The investment, through the Industry Training Authority (ITA), will fund 1,588 seats through to March 31, 2017 in various trades, including
Electrician
Welder
Cook
Heavy mechanical group trades
Carpenter
The funding is part of the ITA's allocation to BC post-secondary institutions and training providers to run various training programs throughout the province.
"Our trades programs are a first stop for many employers when they are searching for highly-skilled, job-ready graduates and apprentices, and today's announcement allows us to build on that reputation," said Baldev Pooni, TRU's interim dean of trades and technology.
"This announcement further demonstrates how the ITA and BC government continue to lead by example by first listening to industry's training needs, and then empowering TRU to deliver solutions. TRU is proud to contribute to regional economic development and play a vital role in such a healthy and strong relationship," said Pooni.
Learn more about trades at TRU
In response to the objectives outlined in BC's Skills for Jobs Blueprint and the McDonald Report, the BC government has worked in partnership with the ITA to begin building a demand-driven trades training system with funding aligned to specific in-demand trades.
The provincial government invests more than $94 million annually in industry training through the ITA. The ITA leads and co-ordinates British Columbia's skilled trades system by working with employers, employees, industry, labour, training providers and government to issue credentials, manage apprenticeships, set program standards and increase opportunities in the trades.
Quotes
"Our government's investments through the Skills for Jobs Blueprint specifically target high-priority trades so we can ensure BC has the workforce necessary for our growing economy. By working with our training providers like TRU, we can give British Columbians the skills they need for in-demand jobs in our region and throughout the province."
— Todd Stone, MLA for Kamloops-South Thompson
"The School of Trades and Technology at TRU puts Kamloops at the forefront of trades training
in BC, offering foundation and apprenticeship training in 20 disciplines. Continuing to invest in
trades training at TRU means more people in and around Kamloops have the opportunity to get
the training they need to meet the demands of the labour market."
— Terry Lake, MLA for Kamloops-North Thompson
Quick facts
ITA provides more than 100 apprenticeship training programs in BC, including 50 Red
Seal trades.
There are currently more than 39,000 registered apprentices in the industry training
system (including youth)—more than double the 14,676 apprentices registered when ITA
was created in 2004.
BC is expecting up to one million job openings by 2025 due to retirements and
economic growth.
Eight of every 10 of these job openings will require post-secondary education or trades training.
Read the latest reports on the BC labour market and the forecasted trends, high opportunity occupations, and important sectors.