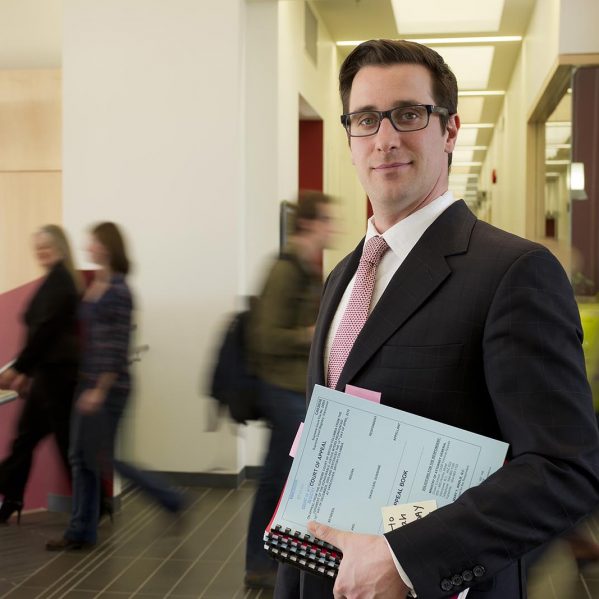 TRU Law faculty member and appeals lawyer Micah Rankin was successful in his bid to overturn a BC Court of Appeal decision in Canada's highest court.
The Supreme Court of Canada released the landmark decision today after hearing the case six months ago.
"The decision changes the test for when a trial judge may depart from joint sentencing recommendations of counsel," explained Rankin.
Joint sentencing submissions are commonly known as plea bargains—terms agreed to by both parties and submitted to a judge.
Rankin argued that judges should closely follow joint sentencing submissions. Otherwise, he says, it erodes the integrity of the plea-bargaining process, and that plea bargains are less likely to be achieved if individuals fear the sentencing judge will reject them.
The case arose from a 2013 manslaughter conviction in BC, in which a judge increased a sentence agreed upon by both the Defence and the Crown. The sentencing judge believed a tougher sentence should be imposed. The BC Court of Appeal sided with the trial judge.
That's when Rankin decided to get involved. He had previously conducted research on sentencing and had become interested in the case.
"I was interviewed by Lawyer's Weekly about the appeal court's decision. I decided it was worth seeking leave to the Supreme Court of Canada to resolve an outstanding issue in the case law," he said.
"The status quo had been that judges in BC and the western provinces had the ability to reject a sentence if they felt it was unfit, while judges in the east could only interfere if the joint submission was contrary to the public interest," said Rankin.
"We argued that the public interest standard should apply across Canada.  This was about trying to bring consistency on the matter to courts across the country."
And it will, say Rankin's colleagues.
"This is an amazing accomplishment. The case will have a huge impact on the practice of criminal law across Canada," said Associate Professor Robert Diab, who teaches criminal law.
"This decision will make the plea-bargaining process far more efficient and fair," said Professor Craig Jones.
Rankin was the lead counsel on the case and was joined by his co-counsel Jeremy Jensen. The case also had several interveners including the BC Civil Liberties Association.
In order for a case to be heard at Supreme Court, it must first be deemed of national interest or have implications nationally. This marked Rankin's sixth appearance at Supreme Court since he joined TRU Law in 2011 as a founding member of the faculty.
TRU Law Dean Brad Morse says Rankin's work reflects the caliber of the law faculty at TRU.
For more information:
Micah Rankin
mrankin@tru.ca
250-572-4096
Listen to Micah Rankin on the Jim Harrison show, October 20, 2016 (one day prior to the SCC desicion) discussing the case.
Read Kamloops This Week's article (October 21, 2016) on the SCC decision.