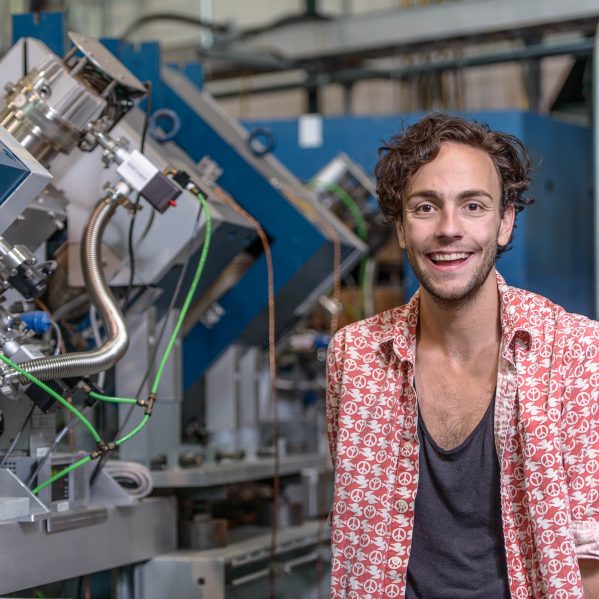 From fashion to physics, Nic Zdunich has done it all—including turning his latest co-op position into a full-time job. The 2016 Bachelor of Arts (BA) graduate completed two co-op work-terms at TRIUMF, Canada's National Lab for Particle & Nuclear Physics, before accepting a full-time strategic communications associate position with the company.
Hailing from rural Saskatchewan, the young globe trotter has lived on three continents, four Canadian cities and travelled to 27 countries,  all while completing five co-op terms and his BA. With a resume almost as extensive as his travels, having worked in fashion, events, graphic design and student affairs, Zdunich was looking for something new.
"The Career Education Department has always had advisors who genuinely take interest in each student's progress and they suggested I explore science communications," said Zdunich.
He took a chance, entered some new territory and was the successful candidate for the communications assistant co-op placement at TRIUMF—a posting that receives over one hundred applicants annually. He stayed for two terms and was able to finish his degree via Open Learning.
While at TRIUMF he has had the opportunity to work on a number of exciting projects including a recent lecture with Dr. Jim Gates who serves on President Barack Obama's Council of Advisors of Science and Technology.  He also helped coordinate #VanSciSocial, an event introducing social media celebrities to the Vancouver science scene.
But it's more than just his ability make things happen in the office, the risks he has been willing to take have really paid off.
"Nic stands out for quite a few reasons—his ability to understand a company's core values, its vision and how to take risks," said Susan Forseille, student employment coordinator. "The soft skills he has developed are a direct correlation to his success."
Currently, Zdunich is working on a multi-year project to create an internal communications strategy that will generate stronger communications between colleagues at a lab of over 500 people.
"TRIUMF contributes so much to the global scientific community and it feels important to be part of that," he said. "Making high-level science into something digestible is hard work and every day is an interesting challenge, which is what keeps me coming back."
Zdunich admits that, the TRU co-op program allowed him to gain experiences that he wouldn't have been exposed to otherwise.
"The opportunities I got with co-op have been some of the most beneficial of my life – not just the placements, but the support I received with the placements.  This is a chance to test a field you are interested in, why wouldn't you do co-op."