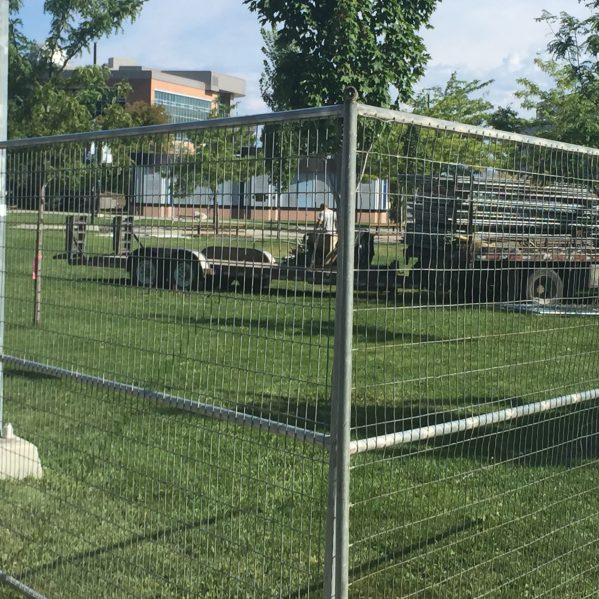 The TRU campus will get sporty this fall with the addition of two new multi-sport playing surfaces being installed on the Campus Green just outside of Old Main.
The courts are expected to be ready for play by mid-September—marked for pickleball, basketball and ball hockey—and a grass volleyball court is also being installed.
The new facilities are a response to student demand for more space on campus to play. New recreation facilities have not been added to campus since the Tournament Capital Centre was opened in 2007 and the university has evolved and grown significantly since that time.
"Feedback from students was that TRU's recreational facilities are insufficient and not necessarily convenient, especially for pick-up sports given our size," said VP Administration and Finance, Matt Milovick.
"These ameneties promote an active lifestyle for our community by giving students a free recreational outlet between classes and providing high-quality playing surfaces that can be used for pick-up sports."
While the primary goal of the new facilities is to provide a recreational outlet for the TRU community, they will also provide a potential additional venue for sport camps and for the residents and families of future Community Trust developments.
"These courts will allow us to continue to grow our recreation programs and our sport camp offerings. The courts can be multi-purpose and utilized for a variety of sporting events, and the sand court can be easily converted to a winter ice rink—something we have tried to create the last number of years," said Ken Olynyk, director of athletics and recreation. "We want to continue to work at supporting our on-campus students and provide opportunities for them to stay active seven days a week."
Primarily the courts will be available on a first-come first-served basis, but at times they will also be scheduled through TRU Athletics for specific events and academic programming.