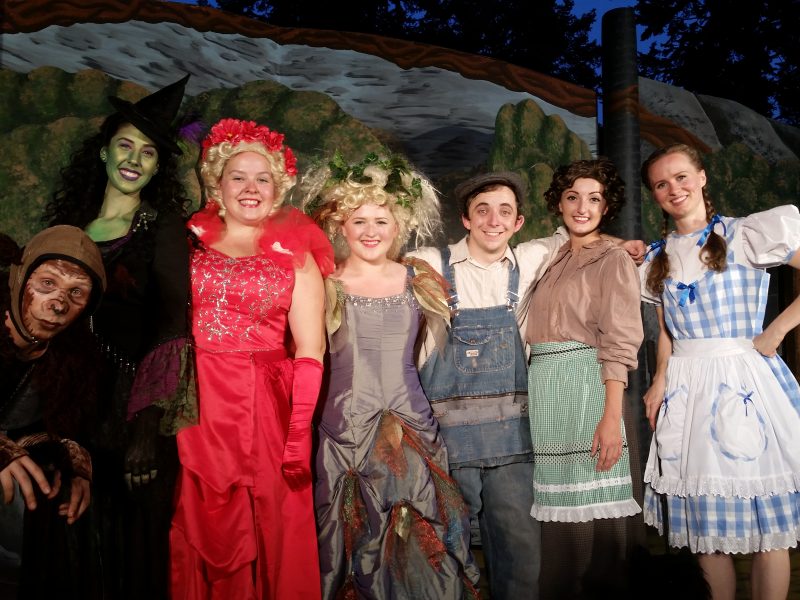 There's no place like home for theatre student Morgan Benedict.
Home—in this case, for the Mission, BC, native—is debuting in the Wizard of Oz, one of two productions at X Fest 2016. X Fest is the annual outdoor summer festival staged by local company Project X Theatre.
"It has been so great to be a part of this company and to work with this script, to be there for the journey of the creation of it," said Benedict.
She is also the first person in Project X history to be an actor in one of the shows, and a stage manager with the other (X Fest 2016 also features the production Munsch Upon a Time).
Benedict—who plays Glinda the Good Witch (as well as other supporting characters)—showcased her ensemble acting talent on the outdoor stage at the festival venue in Prince Charles Park. The intimate setting features an enclosed stage area with seating for up to 200 people.
TRU theatre alumni Dušan Magdolen is the general manager of Project X and says the productions wouldn't be possible without the pool of talent available in Kamloops, noting that of the ten Oz cast members, three are current TRU students and five are alumni (the other TRU students are Maddison Hartloff, who plays Auntie Em, and Josh Sunderman, who plays the Scarecrow). Project X Theatre artistic director (and director of Oz) Melissa Thomas is also a TRU theatre alum.
"We have a lively arts and theatre culture in our city, in large part thanks to TRU's theatre program," said Magdolen. "Project X was co-founded by a theatre graduate, and more than 25,000 people to date have enjoyed the family-friendly outdoor productions the past 11 years."
"We are slated to break attendance records this year, with more than 3,000 people coming out to enjoy the two shows over the three-week festival. It's exciting because it shows we are resonating with family audiences," added Magdolen, who also had a debut at Oz this year as the play's adapter.
X Fest wraps up tomorrow night, July 30. The remaining four shows are tonight's closing of Munsch at 5 p.m. and 7 p.m., followed by a fundraising improv show for adults only at 9 p.m. Saturday will see the closing of Oz with a 2 p.m. pay-what-you-can matinee and a 7 p.m. showing of Oz.
Visit Kamloops Live Box Office for tickets.