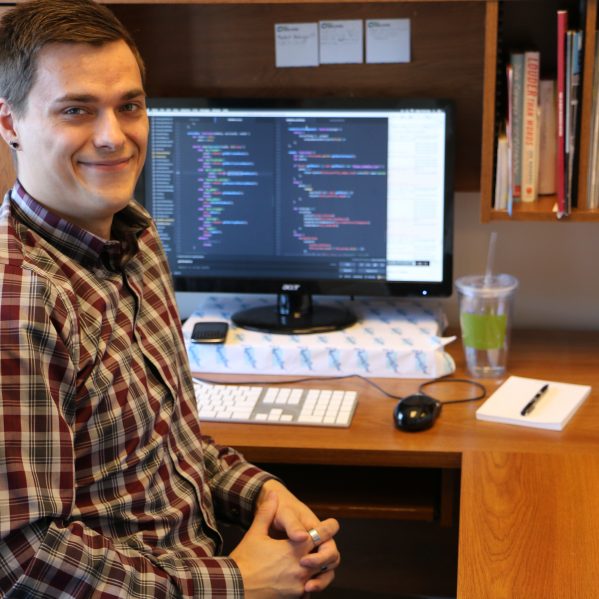 Jeffrey Palmer doesn't play the game, but a new golf app the Bachelor of Computing Science student has been developing this year is helping players enhance their experience by making it easier to book tee times.
Palmer is completing his second co-operative education term as a programmer for Buddie Golf, a local tech start-up with an innovative mobile app allowing golfers to connect with other players and book rounds at 11,000 courses across North America (the app is free on Google Play and the iOS store).
"The highlight for me, working on the app, has been getting extensive iOS experience," Palmer said of his enhanced operating system skills, noting they will be an asset on his resume.
The Buddie Golf concept was hatched by Kamloops entrepreneur Krishna Lakkineni (ROI Media Works) and Palmer's stint as a co-op student has allowed him to gain hands-on experience and learn new skills, complementing knowledge he's gained in the classroom.
"I didn't know what I would be working on when I was hired. It doesn't matter that I don't play golf, I came here to get experience and that's what I got," said Palmer, who will be returning to classes this fall after eight months (two co-op terms) with Buddie Golf.
Meanwhile, Lakkineni says he values hiring co-op students as "aspiring graduates, able to work on real projects to test their skills and learn through practical experience."
Lakkineni adds the synergy between the university and the city's tech scene helps both with fostering local ideas and hiring students—referring to mentorship he received from individuals at Kamloops Innovation Centre (KIC) including Dr. Lincoln Smith, TRU's director of research partnerships and creative enterprise and executive director at KIC.
KIC not only provided Lakkineni with advice on developing Buddie Golf, but helped him secure a BC Tech Co-op Grant—funding available through the BC Innovation Council and the BC Innovators Skills Initiative to be used toward training co-op students and subsidizing their salary.
KIC has also supported Lakkineni's recent nomination for an award from Startup Canada, with KIC's John Zubak calling him "an exceptional example of Canada's innovative entrepreneurial spirit."
With the golf season in full swing and the app in beta mode, Palmer will be spending the remainder of his time with Buddie Golf translating user feedback into programming tweaks, before returning to campus in September.
For more information:
admin@buddie.golf