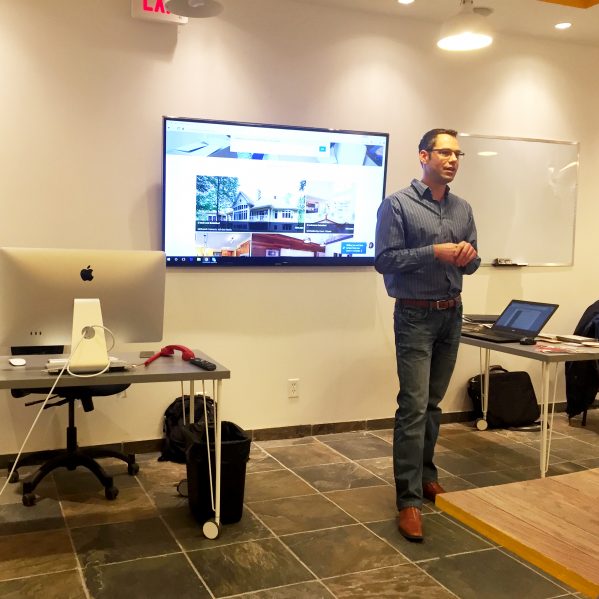 Business programs traditionally produce graduates with great quantitative and technical abilities but with less experience in application and practice. Paul Clark, faculty member in the School of Business and Economics is changing that with his experiential approach to teaching and learning.
Clark's summer Introduction to Marketing class (MKTG 2430) recently took on an applied marketing project thanks to a partnership with Dr. Lincoln Smith, executive director of the Kamloops Innovation Centre (KIC) and TRU director of research partnerships and enterprise creation. Smith runs the TRU Generator, a resource for the local startup community.
"Whenever possible, for the marketing and strategy courses I teach, I incorporate these applied and experiential assignments," said Clark. "I approached Dr. Lincoln Smith and after discussing the idea of using KIC clients, he was supportive and helped me contact the most suitable start-ups for the assigment."
The class worked directly with KIC, Snap Up Real Estate and Chatwin, to develop marketing plans and recommendations for each business. At the end of the project, students presented their plans to the clients based on concepts and ideas learned throughout the course.
"The students were very detailed in their research of our industry and our current marketing strategy. They identified new and different target markets that we could address, accompanied with ideas on how to reach these new markets," said Amanda Chan, community builder at KIC and the TRU Generator.
"As a local start-up, we were excited to work with students at TRU to help them learn and apply their knowledge using real world examples right in their backyard and for us, gain some insights about our marketing at the same time," said CEO of Snap Up Real Estate, Dave Zirnhelt.
Clark says that it's still unclear how much of the feedback will be used by the businesses, but that the students enjoyed the chance for a practical opportunity to explore concepts from the course and take on a new challenge.
Some of the common themes that emerged from student feedback was that they gained a better understanding of how brands target specific segments of consumers, how to complete market research and how to better understand the significant forces in the external environment—skills that will definitely translate to the workforce.
Through these partnerships and hands-on learning experiences, TRU supports student success and prepares students for relevant careers after graduation.
"TRU plays a big role in the successes we are seeing in the Kamloops start-up community," said Smith. "The local technology sector is flourishing because of the innovations, workforce and entrepreneurs our university produces each year. Supporting experiential learning is an investment that pays off immediately."