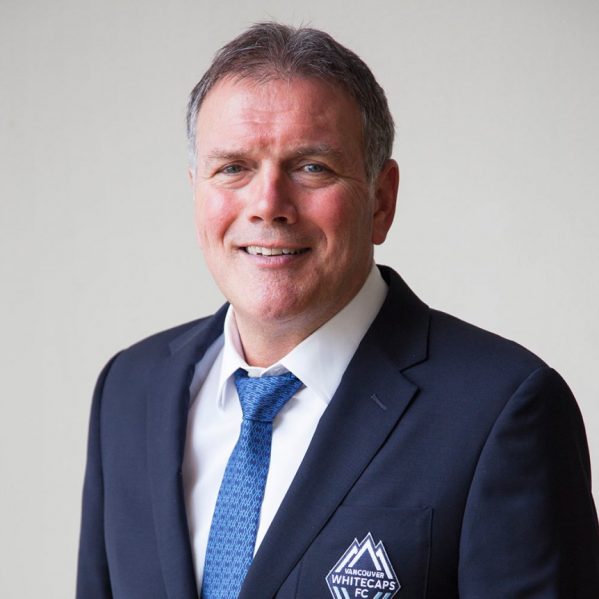 TRU Athletics has announced that 2016 TRU honorary degree recipient Dr. Bob Lenarduzzi will be the keynote speaker at this year's Athletic Scholarship Breakfast. Lenarduzzi is a Canadian sport icon and president of the Vancouver Whitecaps FC.
"We're excited to have Bob address our community supporters about the value of sport," said Ken Olynyk, director of athletics and recreation. "Athletics has had a long association with him through John Antulov, WolfPack men's soccer head coach and director of the Whitecaps FC Kamloops Academy Centre."
During his soccer career Lenarduzzi represented Canada 47 times, including at the 1984 Olympic Summer Games and the 1986 FIFA World Cup, and was twice named the Canadian Soccer League's Coach of the Year. His continuing contributions to the growth of the sport include the Whitecaps' successful bid for a Major League Soccer franchise and the launch of the National Soccer Development Centre, a training facility for not only Whitecaps FC teams, but Canadian national teams, visitors and Vancouver's local soccer community.
Seeing a vital link between sports leadership and community well-being, he is cultivating leadership in Canadian youth through sport. Lenarduzzi is a visionary community-builder with an impact that goes far beyond soccer.
Lenarduzzi follows in the footsteps of previous breakfast guest speakers Kelly Olynyk of the NBA's Boston Celtics and Olympic Rower Will Dean.
Event details
September 29, 2016
Doors open 6:45 am, 7:00 am – 8:30 am buffet breakfast
Grand Hall, TRU Campus Activity Centre
Reserve tickets now