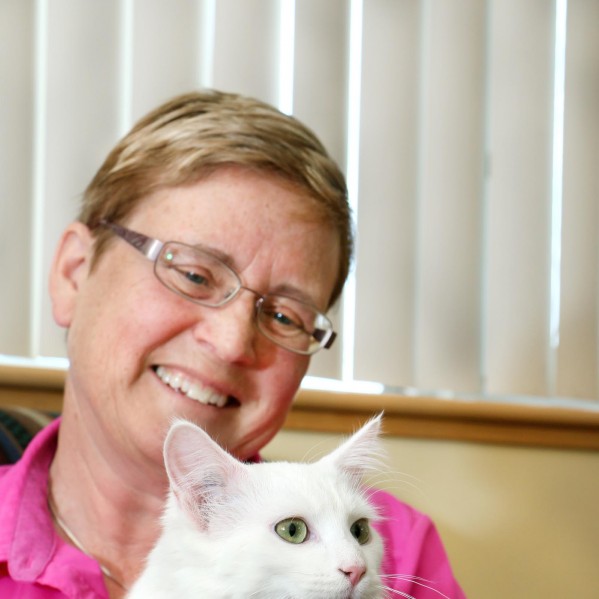 What a great way to cap a great teaching career.
Set to retire in July, after 27 years at TRU, Animal Health Technology lecturer and program coordinator Cathy Hall-Patch was recently named 2016 Veterinary Technologist of the Year by the BC Veterinary Technologists Association.
"It was a total surprise and quite an honour," said Hall-Patch, who was presented with the award at BCVTA's annual general meeting in April.
Nominated by her fellow faculty members, the endorsement letters spoke of her diligence in keeping up with what's new in the veterinary field and bringing that knowledge into the classroom. The award also recognized her years of serving as a BCVTA executive member during the organization's early years and the task of increasing the membership and communicating the relevance of being a member.
"A lot of people didn't even realize there was an association and then there was the question of, 'Why should I join? What's in it for me?' We had to get out there and get technologists excited not just about their job, but have them realize that this is not just a job, but a profession and part of a profession is taking continuing education, keeping up on what's new and following a code of ethics," said Hall-Patch.
Proud of the award, it will find a home alongside her 2002 UCC Teaching Excellence award and the 2007 Making a Difference award presented by the Canadian Animal Health Technologists and Technicians Association. That recognition was a thank you for the six-year process of helping update the North American certification exam for animal health/veterinary technologists. Being one of two Canadians on a committee of 10, a highlight was having 80 of her submitted questions placed on the exam.
Hall-Patch joined TRU in 1989 after close to 10 years in the field. Initially hired to fill in for a maternity leave, the person chose not to return and Hall-Patch successfully applied for the position. She did her formal training at Fairview College in Fairview, AB.
"What I will miss about teaching are those 'Ah ha!' moments when students suddenly realize they have grasped a difficult concept or perfected a practical skill. The way their faces light up and their palpable excitement–priceless."