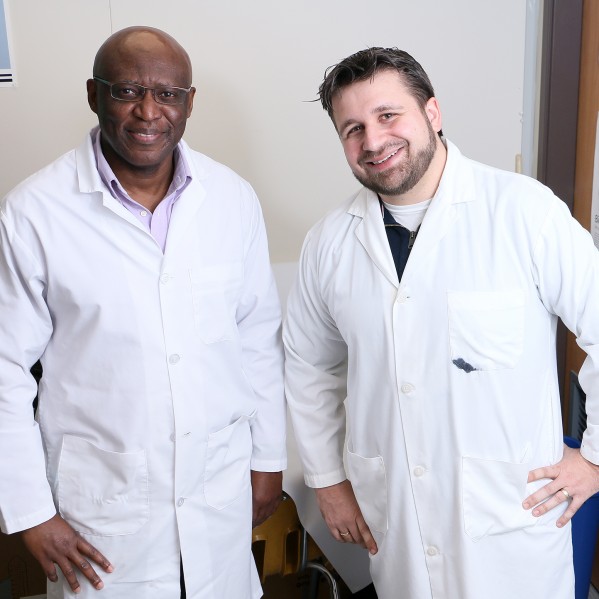 Dr. Kingsley Donkor has no difficulty listing off the names of his former students, but then again, it's easy to remember names when you never lose touch.
Like many TRU faculty members, he has kept in contact with his students through the years, offering mentorship as they embark on different stages in their careers.
And today, one of those relationships has blossomed into an Natural Sciences and Engineering Research Council (NSERC)-funded project that has the potential for significant positive impact to the power generation industry.
Donkor, an associate professor in chemistry, has partnered with Stuart Chambers, a senior researcher with Surrey-based Powertech Labs. Chambers received his Bachelor in Science with a major in chemistry from TRU (then UCC) in 2004, and would later complete his PhD in analytical chemistry at the University of Alberta.
The project, "Identification of marker compounds in ester fluids from electrical transformer components," aims to pinpoint new ways to accurately and economically confirm the health of electrical transformers. The ultimate goal is to allow a better understanding of the cause of transformer faults. This research, which is supported by a $25,000 grant, could end up saving the industry money on repairs, extend the life of transformers, and eliminate the need to replace transformers in the event of a catastrophic explosion, which comes with its own inherent safety concerns.
"The impacts are quite serious, and can range from cost for the power supplier for new transformers, to explosions that cause severe contamination to be released into the atmosphere, along with other safety concerns for first responders," explained Donkor.
Within electrical transformers there are coils, explained Donkor. Those coils are surrounded by cellulose paper, and in between those coils, ester-based oil is used as a cooling agent. The decomposition of the cellulose within the oil is what leads to faults and explosions.  The current safety standard is to use physical testing methods to determine when to change the oil to prevent a fault from happening. But by using analytical chemistry techniques such as liquid chromatography-mass spectrometry, capillary electrophoresis, and MALDI-mass spectrometry, Donkor hopes to create chemical methods to predict the age of the oil and determine when it needs to be changed.
"This research could be very valuable. It will help give us an advantage over our competitors and will help keep some cutting-edge research in BC," said Chambers.
More information
Dr. Kingsley Donkor
kdonkor@tru.ca
250-828-5410
---
The Research Support Fund provides a portion of the costs associated with managing the research funded by the Natural Sciences and Engineering Research Council, such as salaries for staff who provide administration support, training costs for workplace health and safety and maintenance of libraries.