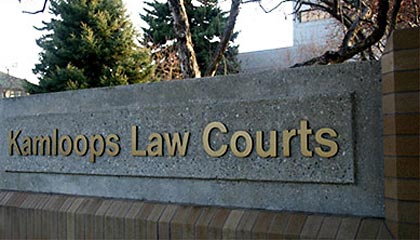 Twenty-two TRU Law students gained valuable insight into the judicial process this week, participating in a unique program in which they were able to shadow a judge for a day.
The program, a coordinated effort between the university and local judges, is not commonplace at other law schools, which speaks to the relationship between TRU and the community.
In the voluntary program set up over reading week, a group of three students met with a different judge each morning and then observed the day's proceedings.
The students and judge met throughout the day to talk about matters of the law and procedure, and how judges and lawyers approach their work (details of specific cases being heard were out of bounds for discussion).
There were participating judges from both the Supreme and Provincial Courts of British Columbia.
Students highlighted the fact that overlaying human stories on the legal framework they study from textbooks is what made the experience memorable and impactful.
"Listening to the judge's meticulous reasoning made me realize that every day they perform a delicate dance, balancing community and legal perspectives," said Anoosh Salahshoor, a second year law student from Toronto.
Greg von Euw, a second year law student from Vancouver, echoed this sentiment.
"I witnessed how the judge empathized with both the plaintiffs and defendants—it made me see that a legal education is nothing without understanding the effects that judges' decisions have on people's lives," said von Euw.
The Judge Shadowing program is in its second year and was made possible by Retired Justice Richard Blair, who volunteers his time as Judge-in-Residence at TRU Law. Blair, who still has coffee most Fridays at the Kamloops Courthouse to catch up with his colleagues, was able get local judges on board.
"It really opens the door for students. It creates a comfortable level of accessibility to the judges," stated Blair, who has decades of experience as a former BC Supreme Court Judge and Provincial Court Judge.
Natalie Paul, a Kamloops native in her first year at TRU Law, would agree, saying she felt her experience was so much more than just a one-day shadowing program.
"I received some really great advice from a judge that will help me not only throughout law school but throughout my legal career."
Judge Stephen Harrison, a Provincial Court Judge who was involved for a second year, says while the judges see the value in mentoring students, they also enjoy interacting with them.
"It's a refreshing opportunity to meet law students, future members of the legal profession. These students are an enthusiastic and impressive group who bring with them a remarkable variety of talents and backgrounds," said Harrison.
Today wraps up the week long program, which will be offered once again during next year's reading break.