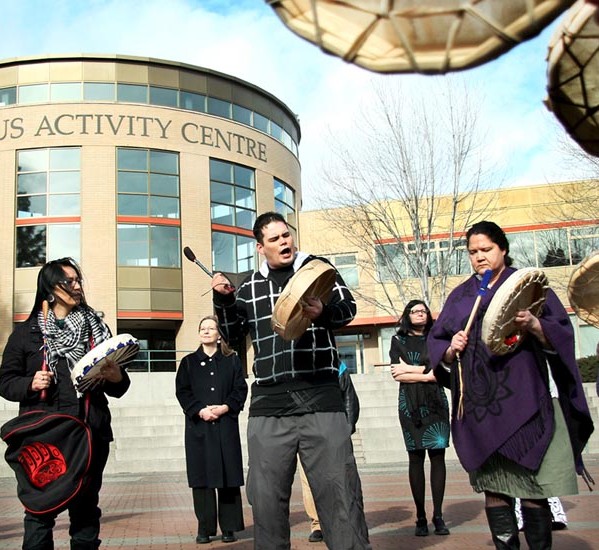 TRU's Aboriginal Education department has assembled a range of events to celebrate 2016 Aboriginal Awareness Week, Feb. 28-March 4.
The schedule of events is as follows:
Feb. 28
Feast and round dance
Off campus at Moccasin Square Gardens, 345 Chief Alex Thomas Way
6 p.m. — Feast
7 p.m. — Round dance
March 1
Elders luncheon
Grand Hall, 11:30 a.m. to 2 p.m.
March 2
Making dream catchers
9 a.m. to 2 p.m., Student Street
Movie night,
6-9 p.m., Cplul'kw'ten (The Gathering Place, House 5)
March 3
Making Inuit harpoons
3-6 p.m., Cplul'kw'ten (The Gathering Place, House 5)
Powwow night
6-9 p.m., dance studio located in the gym
March 4
Lahal tournament (stick games)
5 p.m. to 2 a.m., location to be announced
Strong Aboriginal presence at TRU

TRU is situated on Secwepemculew, the traditional lands of the Secwepemc people. We honour this connection through an array of programs and services to welcome, care for and support you in every step of your educational journey. Here you will find small class sizes, personal attention and practical learning experiences in every program, all on our beautiful campus.
Walking alongside

TRU Aboriginal Services coordinators, transition planners, mentors and Elders are here to provide you with the tools and resources to make the most of your university experience.
The Gathering Place (Cplul'kw'ten) is a home away from home for Aboriginal students. Speak with an Elder, mentor or other members of our Aboriginal Services team. Drop by to meet fellow students. Take a study skills workshop, access community resources, find assistance with papers or funding, or use the computers. Enjoy a warm lunch every Wednesday. It's casual, it's friendly—and it's yours.