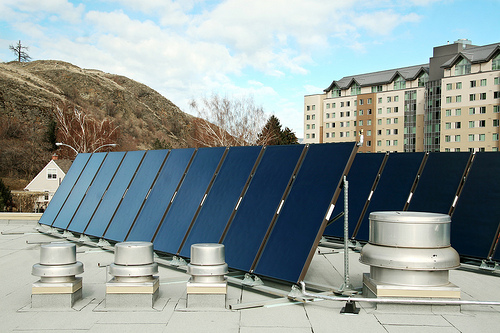 TRU's commitment to reducing its environmental impact while encouraging others to do the same has earned it another distinction from the Association for the Advancement of Sustainability in Higher Education (AASHE).
TRU has received a Rising STARS distinction for improving our score by 15 points or more over the previous reporting period three years ago. Earlier in the year and for the same report, TRU was recognized by AASHE for moving up to the gold STARS level from silver.
STARS is an acronym for the Sustainability Tracking, Assessment, and Rating System and is a transparent, self-reporting scorecard for colleges and universities to measure their sustainability performance. It's a collaborative work of dozens of sustainability practitioners in higher education across North America. More than 600 institutions throughout the world use the tool to improve their operations.
Jim Gudjonson is TRU's director of environment and sustainability and said the Rising STARS distinction is another reflection of the strength and credibility of two documents guiding TRU from 2014 through 2019. One document is Strategic Priorities, which led to the writing of the Strategic Sustainability Plan (SSP).
"Through the strategic planning process, increasing sustainability was identified by the campus community as one of five priorities and this recognition is proof of how committed TRU students, faculty and staff are to backing up those words with actions," said Gudjonson.
The SSP was developed around the rigorous standards and clear action items laid out in the STARS scorecard. SSP input involved months of consultation with all members of the TRU community.
"Essentially the sustainability plan was developed by students, staff and faculty, and in turn fully supported by senior administration," Gudjonson said. "This has been integral in aligning the strategic priority of increasing sustainability with the resources needed to make progress."
TRU was one of four universities from Canada to receive Rising STARS distinction.
Media contact
Jim Gudjonson
Thompson Rivers University
Director, Environment and Sustainability
250-852-7253
jgudjonson@tru.ca