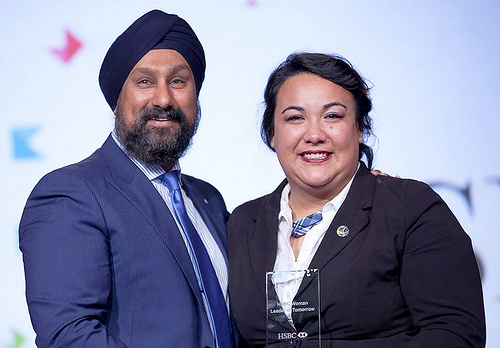 Acacia Schmietenknop's tireless dedication to improving the Kamloops community has earned her the national recognition of being a female leader of tomorrow.
She was presented with the Enactus 2015 HSBC Woman Leader of Tomorrow award during the student club's national conference and competition held in Toronto in May. About 1,200 members from across the country attended the conference as did prominent entrepreneurs, community leaders, and others with influence.
As a bonus, Schmietenknop, along with the top 50 applicants for the award, also attended a women's leadership forum held during the conference. The award also came with a $2,500 project grant for the development and delivery of an initiative to advance women in their community.
During her five years with Enactus Thompson Rivers University and the past two as president, she has taken on numerous roles and responsibilities. She has contributed more than 5,000 hours of her time, helped create more than 100 community partnerships, and helped secure a combined $120,000 in cash and in-kind donations to the TRU club.
Enactus is an international non-profit organization working with leaders in business and higher education to mobilize university students to make a difference in their communities while developing the skills to become socially responsible business leaders. Students form teams and apply business concepts to develop outreach projects aimed at improving the quality of life and standard of living for people in need.