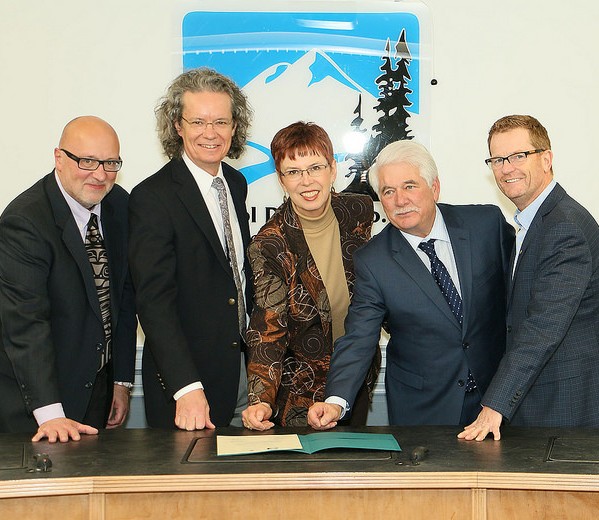 School District 73 and Thompson Rivers University are collaborating to deliver a unique education opportunity for students in the region to sample university while they are still attending high school.
The agreement between the two institutions, which offers dual credits in construction trade courses and mechanical trade courses at the new NorKam Trades and Technology School, will be solidified November 28 at an official signing ceremony hosted at the School District office at 1383 9th Ave. at 3 pm.
"This opportunity is an alternate delivery model within our secondary schools to give students advanced credit, and a sense of what is involved in a skilled trades career," says Sheryl Lindquist, District Principal, Secondary Transitions. "These courses go beyond technical programs offered at the high school level and focus on the practical skills needed to pursue trades careers."
Similar to the Ace It and TRU Start Programs already available in the district, the new Construction and Mechanical Trades sampler courses will be administered and taught through Thompson Rivers University faculty to eligible students in Grades 10 through 12.
"TRU and the SD 73 have a long history of working together to serve the needs of this community," says Alan Shaver, TRU President and Vice-Chancellor. "This partnership aligns with the government's Skills for Jobs Strategy, which calls for all parts of our education and training sector to set common goals so that our students have the skills to be first in line with jobs in a growing economy."
However, rather than students attending school at the TRU campus, they will be taught at the NorKam Trades and Technology School, where a new wing with classroom and shop facilities has been recently constructed to accommodate increased trades and technology training.
"This is an opportunity to attract students to trades and technical careers by exposing students to the trades in a meaningful way – and to career options they might not otherwise consider," says Bryan Daly, TRU Acting Dean of Trades and Technology. "Together TRU and SD 73 will help graduates to be ready for more advanced training or the workforce by the delivery of up-to-date and relevant curriculum and by the provision of a head start to hands-on, work-based skills training."
The forecasted need for skilled trades workers in BC in the coming decade is estimated at 1 million individuals to fill positions largely created by retiring workers.
Students who successfully complete the sampler courses over one semester earn 16 credits toward their high school diploma and up to 12 credits from TRU, which may be applied to a Bachelor of Arts or Bachelor of General Studies degree. The training can accommodate up to 36 students in each semester and applications for the September 2015 intake will be available in the new year with a deadline set for mid-February. The first cohort of students begins studies at NorKam in February of 2015.
"School District No. 73 is excited to enter into this agreement with Thompson Rivers University, and we look forward to providing our students with increased opportunities for trades training now and in the future," says Karl deBruijn, School District 73 Superintendent.
The district is making students aware of the opportunity through the Trades and Technology Coordinators at each high school, and through public meetings hosted at NorKam. There is also a website that provides information on the programs at www.tnt.sd73.bc.ca
Last year, School District 73, in partnership with the Province of British Columbia, invested $7.6 million to renovate NorKam Secondary to accommodate new trades and technology classrooms and facilities in anticipation of the greater need to fill skilled trades positions.
For more information, please contact:
Sheryl Lindquist, District Principal, Secondary Transitions, at slindquist@sd73.bc.ca
Bryan Daly, Acting Dean of Trades and Technology, TRU at bdaly@tru.ca