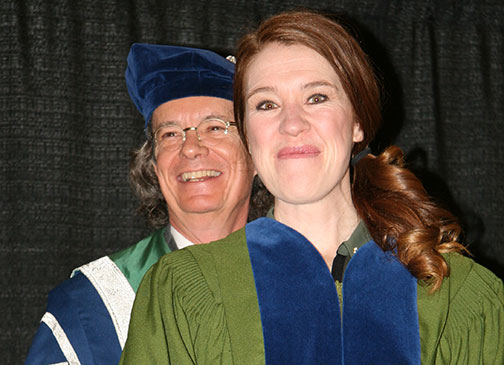 The President's Report is produced each month for presentation to the TRU Board of Governors and TRU Senate. Read the November 2014 President's Report for an overview of recent university news, accomplishments and publications by the TRU community, and a list of upcoming campus events.
November's issue features Olympian Clara Hughes, who delivered an impassioned President's Lecture on Nov. 20 and received a TRU honorary degree. Also in the news, the TRU community came together to raise over $200,000 for the United Way and TRU Foundation in the TRUly United campaign, and the annual Foundation Awards Ceremony celebrated a total of $735,221 in awards given to 626 students this semester. Aboriginal students in grades 10 to 12 attended TRU's ninth annual Transitions to Post Secondary Day on Nov. 13 to learn about campus life, services, and programs.
Among achievements this month, we congratulate Tourism students Nataliya Kiyan, Mahlayah Mullaney and Xiao Zhu, who took first place in the diploma category representing TRU at the LinkBC 2014 Student Case Competition in Vancouver.
This issue also features presentations and publications from arts, education, natural resource sciences, nursing and science, including a new book by faculty members Kim Calder Stegemann (Education) and William Roberts (Psychology), called Students at Risk in the Classroom.
To view past reports, visit the President's website. To submit news, achievements or publications to the next report, send an email to president@tru.ca. Read more TRU News