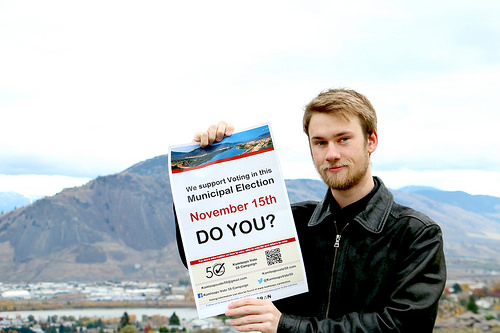 As a student, Will George made the most of his university experience by getting involved in the campus community, whether contributing to grassroots projects or helping shape policy at the top level. Now the TRU alumnus is making a difference on a wider scale.
"I'd like to have the same experience in the larger Kamloops community as I did at TRU," said George, who this spring completed a Bachelor of Arts with a major in economics and politics and a minor in history. "Giving back is important to me and giving back and making a difference—that's who I am."
George is the campaign coordinator for Kamloops Vote 50, a non-partisan group which aims to boost the turnout for the municipal election on Nov. 15 to 50 percent, after a turnout of only 29 percent in 2011. He is also developing a youth engagement toolkit for an organization called Eva's Initiatives.
Both are ambitious projects but he is able to draw on his TRU experiences inside and outside the classroom to make them happen.
"I've been involved with 21 different organizations and 13 committees on campus and it all comes down to who you know and the relationships you have with other people," he said.
As campaign coordinator, George makes frequent presentations to attract volunteers or sponsorship. Presenting research at several of TRU's annual Philosophy History and Politics conferences taught him the importance of knowing his topic and audience. And as a member of TRU Students' Union (TRUSU), he took advantage of numerous opportunities to hone his public speaking skills. On March 24, 2014 in front of a full Grand Hall audience, he delivered the introducing and closing remarks for anthropologist Jane Goodall, who delivered TRUSU's Common Voices Lecture.
"All of the public speaking experience while at TRU has made it second nature to stand up in a crowd of any size and articulate my point while feeling comfortable doing so," he said. George has made his case to service groups like Rotary, business groups, committees, and students in classrooms.
 
An advance polling station is scheduled for TRU Kamloops on Nov. 13 from 10 a.m. to 2 p.m. in the Campus Activity Centre
.
As co-president of the Politics Club, co-founder of the Intercultural Council and a student rep on the Parking Appeals Advisory Committee, he has had practice being persuasive and cool under pressure in meetings, a valuable skill for the Vote 50 campaign.
"The Vote 50 steering committee members all come from backgrounds where they are used to working in formal structures," he said. "Because I am able to bring Robert's Rules [of Order] to the table, I am given respect. If you can have a seat at the table and work with people, it's a lot easier to get things done."
Reaching 50 percent voter turnout will require thousands of volunteer hours and demand an understanding of what motivates people to volunteer and what inspires them to participate multiple times. George tries to be sensitive to people's schedules, create fun environments and seek volunteer input.
"People have to be excited otherwise they don't want to participate," he said. "You have to be accommodating and ask people what they want to do, how they would like to help and what their vision of success is for the project."