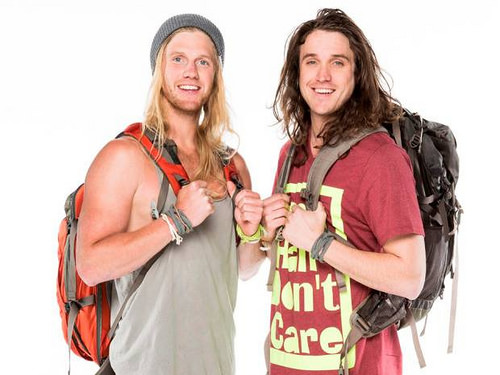 with files from CTV
Celebrate an amazing accomplishment by dropping your pants? Sure, why not.
Which is what Tourism student Pete Schmalz and teammate Mickey Henry did when they were the first team to cross the finish line in the finale of Amazing Race Canada Season 2 on Sunday.
Best friends from Muskoka, Ont., the two 24 year olds will split $250,000 in prize money and each receives free flights on Air Canada for a year, a Chevrolet truck, and free gas for life from Petro-Canada.
Adventure Studies faculty member Ross Cloutier taught Schmalz in a number of third- and fourth-year classes and believes more good things are ahead for Pete.
"He is an excellent student and to win Amazing Race Canada is no surprise to anyone at TRU," says Cloutier. "He is an original, friendly, outgoing, visionary and will accomplish much within the Canadian adventure tourism industry."
Guided by their motto of "Long hair, don't care", the Schmalz-Henry combo exhibited the right amount of calm-under-pressure to guide them through the tricky and demanding challenges that make up the long season that is Amazing Race Canada.
Oddly enough, Schmalz and Henry never won any of the legs except for the last one, though they did have a few podium finishes as they steadily improved along the way. Meanwhile, the team that wound up finishing second had seven first-place finishes out of a possible 11 leading up to Sunday's finale.