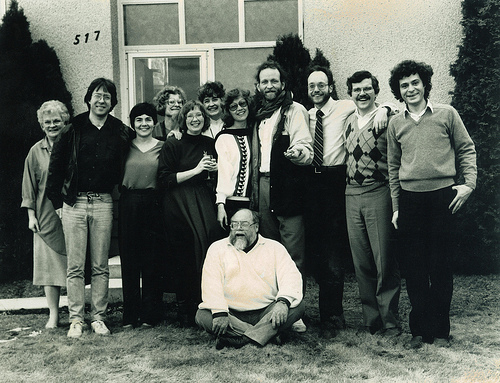 TRU continues a 40-year tradition this Thursday when free music series Live at TRU! presents pianist Maxim Bernard in the Alumni Theatre to begin the winter season.
Originally named the Cultural Event Series, TRU's longest-running event was initiated in 1974 by faculty member Ron Miles (retired) to present a broad spectrum of performances appealing to students, staff, faculty, and the Kamloops community.
"The original intent was to attract the general public to the campus, and to bring free, live performances to students," says Miles. "I wanted students to be exposed to a wide range of performances: modern and classical music, dance, and drama."
"We try to bring performers you are not likely to experience elsewhere on campus or in town," says committee chairperson Susie Safford. "What do they all have in common? They are all outstanding Canadian artists, and they are all Live at TRU!"
For more than 10 years the TRU Faculty Association has contributed $5,000 towards the costs and intends to continue the support.
"Enhancing exposure to a broad range of cultural experience is an integral part of the university's mission and TRU faculty, staff and students have all benefited," says Tom Friedman, TRUFA president.
The 2014/15 series concludes March 12 with a cappella group Eh 440. See Below for the band's bio and a video.
Previous performances this semester: singer/songwriter Diyet (Feb. 12) and pianist Maxim Bernard (Jan. 29).
Media inquiries
Susie Safford, chair, Live at TRU! series
T: 250-828-5292
E: safford@tru.ca
---
Eh440 started harmonizing together in 2012. Using just their voices, this Toronto-based acappella group has wowed audiences across the USA and Canada. 2014 brought them to the next step in their journey, the release of their debut album Turn Me Up. But their journey really started over a decade and half ago. Read more
---
Previous performance this semester
February 12 Diyet
Born in a tent, raised in a two-room cabin, classically trained in opera, now an alternative folk artist. This sub-Arctic-Southern Tutchone-Japanese-Tlingit-Scottish-Yukoner is your typical Canadian – the result of a long cold winter. Diyet's music is like her life, a mix of this and that but deeply rooted in the values of a traditional northern life. From humble beginnings, Diyet went on to acquire a degree in music then worked as a songwriter in Vancouver.  Read more
---
Previous performance this semester
French Canadian pianist Maxim Bernard has already established himself as one of today's most promising young artists. He has performed solo recitals, chamber music, and concerti in Canada and the United States. He has worked with many esteemed conductors such as Ronald Zollman. Read more
---