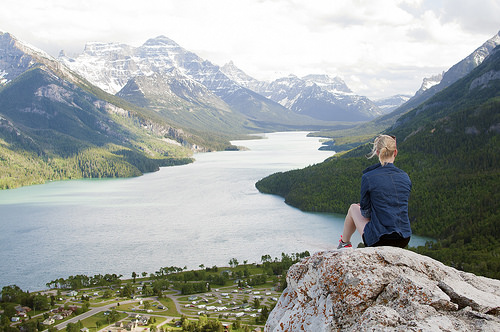 Following is a Question and Answer with Jordan Fraser, a second year Bachelor of Business Administration student majoring in marketing.
The interview is related to her current work term as a co-op student in Waterton Lakes National Park working for Parks Canada. Her position is Visitor Experience Product Development Administrative Assistant.
TRU What has been the best thing about your co-op experience?
JF The best thing so far has been living in this beautiful National Park. This place is paradise with its snowcapped mountains, glacier lakes, diverse plant life, and stunning array of wildlife. I spend most of my afternoons hiking, biking, canoeing, having potlucks or barbecues with friends in the bunkhouse. For work, I have also had the chance to visit the Bar U Ranch and Calgary.
TRU You had to relocate for this co-op, how has this move impacted your career/life?
JF For this co-op, I moved out on my own for the first time ever, 10 hours away from home. At first, I was hesitant in accepting the job for that reason; it was a huge step for me. And it's definitely been interesting. I share a bunkhouse with another girl, we each have our own room and share a kitchen and bathroom. In the bunkhouse, we are surrounded by a bunch of other Parks Canada summer staff. There's rarely an uneventful night in the bunkhouse, and you can always find someone who wants to go out on an adventure. In terms of career, this move has allowed be to live in one of the most beautiful Nationals Parks I have ever had the pleasure of visiting, as well as gain experience working for a national agency. In terms of life, I have been able to make new friends and experience living on my own. I've gotten the chance to get away from town, the couch, and wi-fi and instead, spend my time outdoors exploring.
TRU What has surprised you about the experience? About yourself?
JF I can cook. Seriously, I was not one to cook very much at home, and moving out on my own, let's just say my parents thought I might starve. But I've been doing really well on my own, trying to eat well. Also, I don't have internet at my house, so that's been an interesting change. I was used to having wi-fi everywhere—at home, at work, at school. I was rarely without it. Now, I have to walk into town if I want wi-fi. It's been a nice change in all honesty.
TRU What advice would you have to students considering co-op?
JF Do it. Seriously. Get into the program. This is my third work term, and I have nothing but good things to say about my experiences and the co-op program.