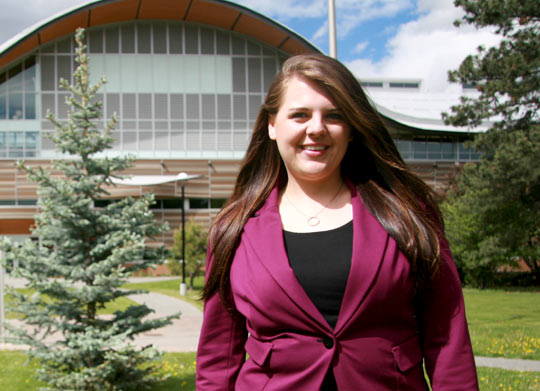 Class of 2014 Law graduate Lisa Scruton was only nine years old, reading books on law with her stepfather, a Justice of the Peace, when she decided she would become a lawyer.
"He passed away when I was 14, which had a big impact on my life," she says. "Although in the end there were a thousand reasons that motivated me to be a lawyer, the main underlying reason was to hold on to a piece of him."
Scruton says TRU has given her the steps to achieve that goal, right from her first English class in the TRU Start program. That experience changed her outlook on both education and Kamloops, prompting her to stay in her hometown to do her undergraduate degree.
She enrolled in a joint major in Political Science and Economics, and a second major in English. "My professors—Dr. Terry Kading in Political Science, Dr. Peter Tsigaris in Economics, Dr. Will Garrett-Petts in English—all knew about my desire to go to law school and helped me get there."
When her mother called in 2009 telling her TRU had announced it would open a new faculty of law, Scruton says everything fell into place perfectly.
Her acceptance letter to join the first class of students in TRU's Faculty of Law came just two days before her Bachelor of Arts convocation, in June of 2011, where Garrett-Petts was on hand to congratulate her.
"Lisa was part of the very first cohort of TRU Start students, getting a head start on university while still enrolled in high school. Today she's part of the inaugural graduating class in Law," says Garrett-Pets, now Associate Vice-President of Research and Graduate Studies. "I suspect she'll always be a leader, and will always excel in everything she does."
---
"We built things from scratch. We had problems, we had difficulties, we had hurdles to overcome and we did it." —Lisa Scruton, Class of 2014
---
Scruton says TRU Law provided practical knowledge, not just theory, and connected her to the community. "The faculty helped network us with the bar association and meet the lawyers, who connected me with someone else. The university really facilitated all those connections being made."
Her close-knit inaugural class was integral to her success. "We were definitely competing against each other, but we also knew it was sink or swim as a whole—we had to go together." She says they are an extraordinary group for a reason. "You walk into a room of TRU Law students and you see artists, athletes, adventurers, all vibrant people—chosen, I think, to make sure we could get this program going and prove ourselves."
The Class of 2014 had a lot to prove. When Scruton began job interviews, she knew many law firms would be wary of the first graduates of a brand new law school.
"When we got ourselves in the door and got an interview, I think generally we surprised people," she says. Being the inaugural class, participating in building the program, has made them into problem-solvers. "When you get a TRU Law graduate as your lawyer, you're going to get someone who's going to solve that problem, whatever it is—because that's what we had to do here."
"We built things from scratch. We had problems, we had difficulties, we had hurdles to overcome and we did it."
Scruton's next step is her articling year, which began in May with the Law Society of BC's requisite Professional Legal Training Course (PLTC), in the first session ever offered in Kamloops and held in Law's new space in Old Main. "It's another first for Kamloops and TRU," she says. She starts work at local firm Epp Cates Oien on July 28.
Related Stories:
The Main Attraction: The new home of TRU Law
TRU Law Degree Accredited by Federation of Law Societies in Canada
Watch the Law Convocation video online
New Law School Building Opens in BC