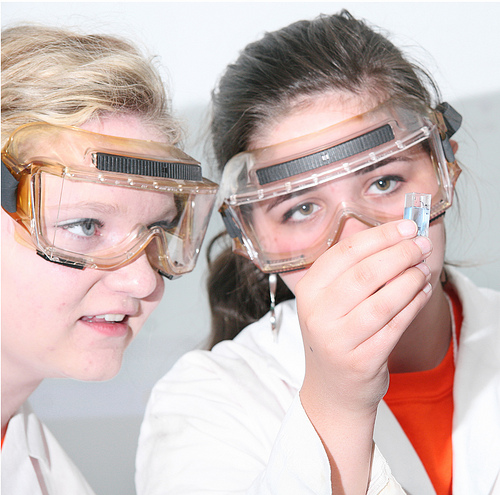 Dozens of Chemistry 11 students from Kamloops and surrounding areas will be on the TRU main campus May 14 for the annual TRU Chemistry Contest and hands-on exercise.
The fifty students representing eight high schools will also analyze an antiseptic component of mouthwash during the always popular laboratory component. Students from Salmon Arm and Williams Lake are also scheduled to attend.
The contest has been running since 1997 and has grown to include the entire province. On the same day, more than 3,000 Chemistry 11 and 12 students will be writing the contest in their schools. The hands-on analysis is only for those students at TRU on May 14.
"We are really excited with the interest and enthusiasm on the part of all the teachers who involve their students," said Doug Bickley, a faculty member with TRU Chemistry and one of the organizers of the event.
There will be at least two new aspects this year, with one being the awarding of prizes for the lab exercise, and the other is the participation of Chongquing Maple Leaf International High School in China and five of its students.
"The feedback from teachers is that the students really enjoy the opportunity to test their knowledge in a contest based on the BC curriculum, and they appreciate that we recognize the top students in each school," Bickley said.
The top overall students writing the contest will receive prizes as will the top finishers at each school. Results for the written portion will be available near the end of May or early June.
---
TRU schedule
Test—11:30am to 12:30pm, S203
Lunch—12:30-1:30pm, S203
Lab experience—1:30-3pm, S237 and S269
---
Contest an outreach opportunity
The TRU Chemistry Contest is part of the award-winning TRU Chemistry Outreach program at TRU, which is designed to encourage interest in Chemistry across BC and give regional students hands-on laboratory experience.
---
More information
Doug Bickley, faculty member, TRU Chemistry
Tel: 250-828-5455 (office) or 250-828-5400 (Science office)
Email: dbickley@tru.ca