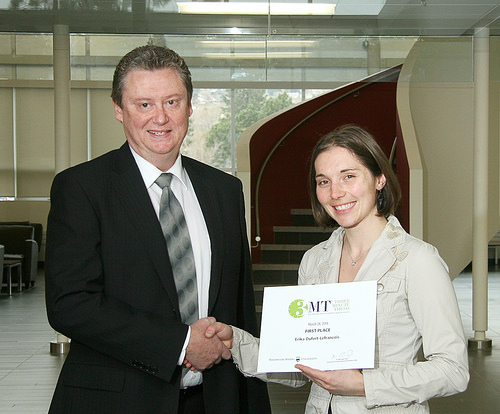 Master of Environmental Science student Erika Dufort-Lefrancois will represent TRU at the national 3 Minute Thesis competition after winning the Western Canadian round in Calgary on May 2.
The national championship will be a virtual competition, with each of the nine contestants submitting a video entry to be judged by a panel of non-specialists. Winners will be announced in June.
Making up the final round of nine contestants will be the top three finishers from each of the three regional championships—Western, Ontario, Eastern.
As the name 3 Minute Thesis suggests, contestants present their graduate research in three minutes or less. As well, the presentation must be in manner that is engaging and understandable by non experts. Contestants must do that in one take, with one static slide, and no props.
Her presentation titled "How Tightly do Indol and LPS "hug?: Determining a Binding Constant" edged out runner-up Stephanie Harvard from UBC ("Does Quality of Care Influence Health and Costs? A Study in 'Spondylo'-Arthritis") and third-place finisher Andrea Edel from U of Manitoba ("Flaxseed: A Modern Prescription for High Blood Pressure and Cholestero"l) Edel was also voted People's Choice winner.
Dufort-Lefrancois earned the right to represent TRU at the Western championship when she won TRU's competition on March 28.
The thesis competition is also known as 3MT and was developed by the University of Queensland in 2008. It has since risen in popularity, with UBC hosting the first university competition in 2011. In 2013, 16 Ontario universities sent representatives to the inaugural Ontario competition.
Winning presentations
What do winning presentations look like? Watch videos from previous winners from Canada and around the world.
Watch Erika's thesis presentation for the national competition and show your support on the Canadian Association for Graduate Studies website.