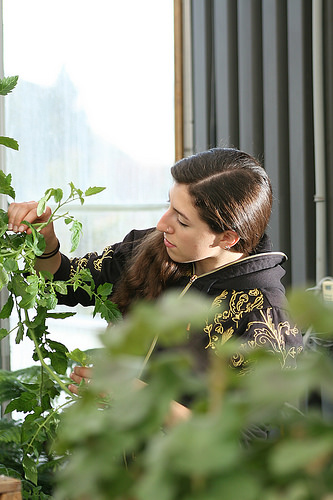 Meet Jessica Robinson, a fourth-year Bachelor of Science student majoring in Animal Biology. The Newsroom asked Jessica about the ins and outs of conducting her own research project through TRU's Undergraduate Research Experience Award Program (UREAP).
TRU: Your project is titled, "Aquaponics vs Hydroponics: a Comparative Study on Biomass and Nutrients". Boil it down for us.
JR: Aquaponics is essentially a highly efficient ecosystem where plants receive nutrients from fish excretions, and fish receive clean water from plant filtration with the help of nitrogen-fixing bacteria. In other words, it's a big fish tank attached to a soil-less garden. Hydroponics is the same soil-less garden, but instead of having a fish tank, there is a big water reservoir where liquid fertilizer is added.
For my research I've created my own designs of both systems and I'm looking into which one has greater plant growth and what the differences are between the nutrients present in each system.
TRU: What attracted you to doing this research?
JR: When one of my friends started experimenting with a household-sized aquaponics system, I was utterly fascinated and decided that aquaponics was what I wanted to study. I love gardening and what is aquaponics if not a year-round garden without the dirt.
TRU: How has your UREAP grant helped you get into doing research?
JR: I really wanted the opportunity to do research so I could get the most out of my degree and potentially figure out what I wanted to do after grad. TRU—through my supervisor Susan Purdy—and UREAP made that very easy to do. Funding obviously plays a huge role in if and how you do research, and UREAP facilitated my plans and allowed me to work on something that I found really interesting.
TRU: Will your project lead to a presentation or publishing opportunity?
JR: Last year I worked on a prototype of the research I am doing now and was able to participate in TRU's Undergraduate Research and Innovation Conference with the information I was gathering. This year I participated in the conference again with the results of my completed study.
---
"I really wanted the opportunity to do research so I could get the most out of my degree and potentially figure out what I wanted to do after grad." —Jessica Robinson
---
TRU: What have you learned from this experience?
JR: I have learned many valuable lessons from this research, one of the most important being how to problem-solve more efficiently. Little mistakes and problems pop up no matter how well you plan things out, and learning how to trouble-shoot and deal with those problems on the fly is an important skill to have in the research world. Besides that, I've also learned that even though research can be a tonne of work, it is so worth it in the end.
TRU: Who in your field do you admire and why?
JR: Funny you should ask, because TRU hosted a Common Voices lecture series with a woman whom I've admired for most of my life. Jane Goodall's life has been shaped by her passion and drive to protect the chimps she worked with in Gombe as a young adult. She is an incredibly strong and forward-thinking woman to do the work she did in a time when women typically didn't seize such opportunities in the professional world.
TRU: What impact do you hope your research will have?
JR: Aquaponics is slowly but steadily making its way into the public eye as a more sustainable (and easily managed) form of agriculture, and I'm hoping that my research will help spread information and contribute to this development. Not to mention that I would love for my research to be the beginning of something larger and more productive in Kamloops.