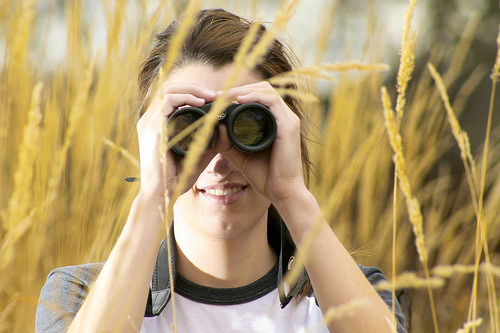 Meet Tara Folk, a fourth-year Bachelor of Science student majoring in Biology. The Newsroom asked Tara about the ins and outs of conducting her own research project through TRU's Undergraduate Research Experience Award Program (UREAP).
TRU: Your project is titled, "The Effect of Development on the Life of the Common Loon: Do Interactions with Watercraft Impact Productivity?". Boil it down for us.
TF: My project explored the relationship between watercraft and loon behaviour on Lac le Jeune, a lake 33km south of Kamloops with varying degrees of shoreline development. Nesting loons, families of loons and loons living life alone are constantly interacting with boats on the water and my aim was to determine whether these interactions have an impact on loon productivity.
TRU: What attracted you to doing this research?
TF: I was attracted to this particular line of research after taking a field ornithology course at TRU. I wanted to learn more about an iconic species, the common loon, and how humans can impact their daily routines.
TRU: How has your UREAP grant helped you get into doing research?
TF: The grant was used to purchase a spotting scope used to monitor the loon pairs from a non-invasive distance.
TRU: Will your project lead to a presentation or publishing opportunity?
TF: I am currently in the process of preparing the report for publication and hope to publish in a journal such as Wildlife Afield: A Journal of British Columbia Natural History.
---
"My favourite part about research was the chance to work independently on a project I cared about." —Tara Folk
---
TRU: What have you learned from this experience?
TF: My favourite part about research was the chance to work independently on a project I cared about. It was extremely rewarding to see my research proposal result in an actual experiment, something that has allowed me to appreciate the field of research on a whole new level.
TRU: Who in your field do you admire and why?
TF: I admire my research supervisor Dr. Nancy Flood. Without her guidance and expertise, this project would not have been as successful as it was.
TRU: What impact do you hope your research will have?
TF: Researching the effects of urban development and the increase in human activity that comes with it is important in the development of management plans that will help reduce our impact on our environment. I hope that my research will help future conservationists or wildlife enthusiasts become more aware of the impact we have in the natural world.