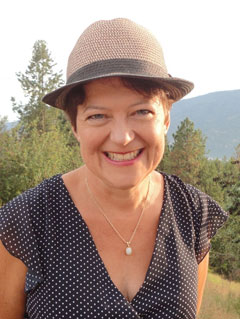 After Alice is the debut novel by Karen Hofmann, associate professor in English and Modern Languages and Creative Writing at TRU.
About the book, from the release by NeWest Press:
Having escaped the place in her youth, retired professor Sidonie von Täler returns to her ancestral Okanagan valley orchards still very much in the shadow of her deceased older sister Alice. As she sifts through the detritus of her family history, Sidonie is haunted by memories of trauma and triumph in equal measure, and must reconcile past and present while reconnecting with the people she left behind.

Karen Hofmann's debut novel blends a poetic sensibility with issues of land stewardship, social stratification and colonialism. Her eye for period detail and characterization is reminiscent of Margaret Atwood's The Blind Assassin or Margaret Laurence's The Stone Angel, while her lyrical realization of bygone B.C. pastoralia recalls the work of George Bowering.
Reviews of After Alice:
"After Alice is a poignant exploration of the mysterious underworld of memory and the capricious expansion and contraction of time. Karen Hofmann has a compelling curiosity about people — their secrets, their sorrows, their strength, and their compromised ideas of love. She has penned a rich novel with big heart." —Angie Abdou, author of The Bone Cage and The Canterbury Trail

"For the beauty of its narrative descriptions, but also for many other reasons, After Alice deserves a place among the best of new Canadian literary fiction." —Julienne Isaacs, The Winnipeg Review

After Alice is available from NeWest Press on April 1. Hofmann's book tour will include a reading at Chapters in Kamloops on April 19.
Listen to a podcast of NeWest's interview with Hofmann (Episode 36).
Hofmann's short fiction has been published in Arc, Prairie Fire, The Malahat Review, and The Fiddlehead. Her book of poetry, Water Strider, was shortlisted for the Dorothy Livesay Prize at the 2009 BC Book Awards, and "Uses for a Mole" won Editor's Choice in the 2012 Arc Poem of the Year Contest. "The Burgess Shale" was shortlisted at the 2012 CBC Short Fiction Contest.