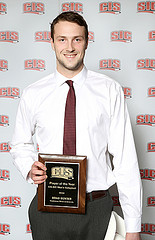 Calgary, AB—For the first time in their history, a member of the Thompson Rivers University WolfPack has been named 'Player of the Year' in CIS sports.
Brad Gunter, a third-year outside hitter from Courtenay, BC was named the CIS Men's Volleyball Player of the Year for 2013-14, and was formally recognized at the CIS Nationals Award's breakfast held this morning (Feb. 26) in Calgary, Alberta.
As well Colin Carson, a fifth-year setter from Prince George, BC, was named the winner of the Dale Iwanoczko Student-Athlete Award for his outstanding achievement in three areas: volleyball, academics and community involvement.
In his third university season, Gunter established himself as one of the best offensive weapons in the country, etching his name in the Canada West record books in a number of statistical categories.
Gunter a stats leader
In 18 league matches, Gunter, a 6-foot-6 science student, led the CIS in average kills per set (5.31), points per set (6.04), total points (404.5), and total kills (356). His kill-per-set average set a new single-season Canada West record, while his point-per-game average ranks second all-time in the conference
Gunter, who was named to the CIS all-rookie team in 2011-12 and started for the junior national squad last summer, finished fifth in the CIS in both total attacks (742) and service aces (27).
Thanks in large part to his stellar play, Thompson Rivers finished fourth in the league standings with a record of 13 wins and 9 losses and achieved its best national ranking in program history in mid-January at No. 4.
"Brad was our security blanket this season. He had a phenomenal year, above expectations for all of us. His hard work and dedication has paid off," said TRU head coach Pat Hennelly. "It is great for Brad to be named MVP. It is an ongoing improvement process for him and I think the ceiling is still higher."
Gunter was also named to the CIS First All-Star team.
Eye-opening season for Gunter
"This season was kind of an eye opener for me," said Gunter. "I came into it with confidence from playing on the junior national team and that confidence made my play way better. Even though, we ended with a disappointing loss in final four and not making it to nationals, I still feel it was successful with a record amount of wins in the season.It definitely opened the door for our team next year. My success comes from my confidence. It gives the team a leader to look up to and someone to turn to when games aren't going well. I believe my volleyball intelligence has grown hugely especially my ability to make shots instead of just hitting the ball hard every time. "
Gunter may be basking in the glow of being the player of the year, but he wanted to thank a few people. "I would like to thank everyone who has helped me get to where I am now; my family and coaches, especially my high school coach Brian McKaskill. And, of course Pat Hennelly and all of TRU athletics."
Carson a leader on and off the court
Carson, a business student, is the first member of the WolfPack to receive the prestigious Iwanoczko Award.
In his fifth and final campaign at TRU, the 6-foot-3 senior led the country during the regular season in both assists per set (10.93) and total assists (929), with the latter being a new single-season Canada West record. His 3,350 assists over five years places him second overall all-time for the conference.
Off the court, Carson, who is set to graduate in April, coordinated the team's community events, including Raise a Reader and Wendy's DreamLift. He is on the WolfPack's Captain's Council, will act as MC and coordinator of the TRU Athletic Awards banquet for the second straight year, and also visited elementary schools for Terry Fox runs.
"It's an honour win an award like this," said Carson. "Knowing the coaches around the country voted myself as the winner is also special. I see this as a team award, and wouldn't have won it if it wasn't for the successful year we had as a team. I'm extremely thankful for all the guys I played with this season and for the coaching staff, who put in an unbelievable amount of time and energy into our team."
It was also special for Carson to be present when Gunter received his award.
"He had an amazing season and it was nice to see him acknowledged as the best player in the country," Carson said.
Hennelly said players are expected to put in 20 hours of community service during the season, though Carson went far beyond and in doing so, set a great example of what the WolfPack can do off the court.
"Colin epitomizes what this award is all about, and am thrilled for him," said Hennelly, adding, "He is very deserving and is a great representative of the league, our team, the city and Thompson Rivers University."