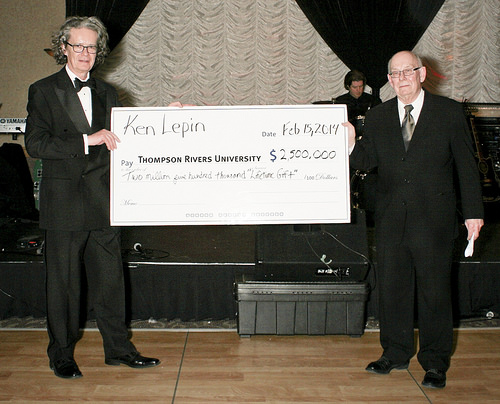 Kamloops businessman Ken Lepin announces his pledge of $2.25 million to TRU students, programming, and more. His lifetime giving to TRU is now $2.5 million.
---
Amidst the spectacle of the TRU Foundation's Carnivale-themed Gala on Saturday evening, a moment of generosity shone brighter than the finery and beads of the city's nearly 350 glitterati in attendance.
A well-known Kamloops businessman, and long-time supporter of a myriad of community causes, stood and announced a gift of $2.25 million to Thompson Rivers University.
The pledge brings Ken Lepin's lifetime contributions to TRU to $2.5 million, making him the single most generous private donor in Kamloops history.
Lepin, who started his career as a chartered accountant and branched into sand and gravel supply before settling into property development, has been a supporter of TRU for decades.
"I have always found that location and timing is everything in real estate, and I believe now is a critical time to help this well located, good university become a great university," he told guests gathered at Gala Saturday night.
In part Lepin said, his gift is a thank you to Kamloops and all the men and women who have contributed to his success.
"I am making this donation to help educate, among others, your children, grandchildren and succeeding generations, and to provide money for much-needed research in several areas."
"Ken has spent his lifetime literally building Kamloops and now he has become an integral founder of our university. It is a great honour to become a part of his legacy, for this gift will improve thousands of lives and strengthen our community in countless ways," said Christopher Seguin, TRU VP Advancement.
Like Lepin's past gifts, the specific allocations for yesterday's announcement are to directly benefit students.
This gift will increase his earlier Prizes of Excellence and create new awards in the Master of Business Administration, Veterinary Tech, Law, Arts and Adventure Tourism.
There will be a $250,000 Innovation Endowment to support students that will enter trades that do not exist yet, letting the university build new and innovative programming to meet the evolving needs of students and industry.
Lepin has founded a $500,000 Research Endowment to support awards for students participating in research at TRU. This fund is TRU's first major endowment to support student research and will acknowledge, celebrate and support the university's growing research portfolio.
This gift will see to the completion of the Wells Grey Science Centre; buy much needed equipment for the Nursing Simulation Lab, and create a President's Initiative Fund, to support future special projects.
With this gift Ken Lepin is now Kamloops' largest philanthropist, and has become one of the largest private donors to education in Canada.
Major gift to support Faculty of Law
Don Andrews, a retired Kamloops lawyer and former member of the TRU Board of Governors, announced a major gift for the TRU Faculty of Law.
The Dr. Donald R. Andrews Law Endowment of $100,000 has been established to fund initiatives that will allow TRU Law to be supportive of its students, competitive with other law faculties and at the forefront of legal education.
Acknowledgement to RBC
Acknowledgment was also given to RBC who through the RBC Foundation launched the RBC Women inTrades Training Program at TRU on Feb. 12.
The commitment of $700,000 is the bank's largest donation in the province outside of the Lower Mainland.
Supporting women in trades foundation programs with bursaries and mentorship, the program includes the RBC Bursary for Learning Success (70 bursaries of $3,000 each awarded over 10 years), RBC Leadership Training for volunteer female mentors, and an RBC Mentorship Coordinator.
More information
Christopher Seguin,
TRU VP Advancement
250-574-0474