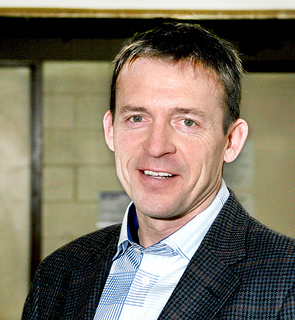 Thompson Rivers University has appointed Jim Gudjonson to the position of Director, Environment and Sustainability beginning January 1, 2014.
Gudjonson has excelled in this role on an interim basis since Dr. Tom Owens' retirement in April of this year, completing the education component required for LEED Gold certification for the Brown Family House of Learning, conducting a composting study and acquired funding for a 6-month pilot, obtaining a fully-funded Electric Vehicle Assessment pilot for TRU's fleet vehicles, and providing oversight for the Beverage Container Review process.
"It has been very rewarding to be involved with Office of environment and Sustainability from its first year, with the progress to date, and of course it was a privilege to work alongside Tom Owen during his time here as the founding director," Gudjonson said.
"I am inspired by the increasing number of students, faculty and staff that hold sustainability-related issues as a priority and through our open door policy we hope to continually engage and empower the TRU community towards positive change. "
"Jim's project management experience, persuasiveness as a negotiator and grant writer, and his multifaceted academic and technical background has, and will continue, to serve him well in this position," said Matt Milovick, TRU VP Administration and Planning.
An impact at TRU since 2009
Originally hired as TRU's as energy and sustainability manager in 2009, Gudjonson co-developed reporting tools and procedures to complete the annual Carbon Neutral Action Report and green house gas (GHG) emissions inventory, and developed a workplace conservation awareness program for the TRU community to support sustainability initiatives.
During his tenure Gudjonson has secured approximately $2 million in funding for various projects at TRU, including BC's largest solar hot water system, the Built Space pilot program and the electric vehicle charging stations. Jim also managed the implementation of a $1.2 million campus-wide retrofit representing a reduction of 400 tons of GHG emissions and an 11% savings in annual utility costs and authored TRU's first Strategic Energy Management Plan. "I am excited for the opportunity to continue to be part of a community that endeavors to study, work and live in a socially and environmentally responsible way," he added.
He holds a Master of Arts in Interdisciplinary Studies, and certification from TRU as both a journeyman electrician and a mountain guide. His doctoral dissertation, in progress at the Heriot Watt University, School of the Built Environment in Edinburgh, is an examination of the benefits of integrating building management software systems with social media tools to engage and empower stakeholders in a university setting.
Responsibilities of the Director
As Director, Office of Environment and Sustainability, Jim will continue to be responsible for sustainability initiatives and projects, reporting, grant proposals, and supervision of the Office's staff, and will provide vision and strategic direction to ensure alignment with the university's strategic priorities, campus master plan and academic plan, all of which emphasize sustainability.
More information
Matt Milovick
TRU VP Administration and Finance
(p) 250-828-5011
(e) mmilovick@tru.ca
Or
Jim Gudjonson
TRU Director Environment and Sustainability
(p) 250-852-7253
(e) Jgudjonson@tru.ca