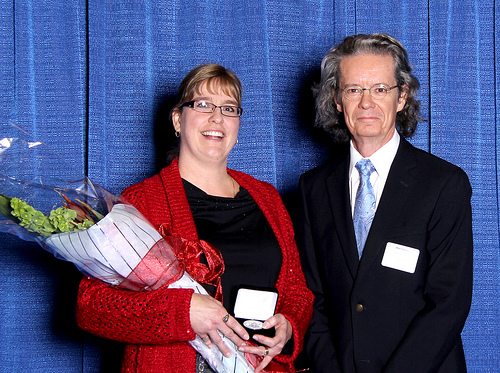 More than 500 TRU students received a financial award during Thompson Rivers University's annual Foundation student awards ceremony on November 21 at 5:15pm in the TRU Gym.
In total, $493,366 was distributed to 512 students. With some students receiving multiple awards, the total number of awards was 550.
"For 31 years the TRU Foundation has been supporting students and the university," said David Paul, TRU Foundation chair. "Thank you so much to you donors and volunteers who believe in the importance of education and helping students achieve their educational goals. I'm sure the students will tell you what a difference your support makes to them."
In the three decades, the TRU Foundation has built an endowment portfolio for student assistance amounting to $11.9 million. Last year the Foundation raised over $2 million for students, buildings, and programs at TRU.
Third year Bachelor of Business Administration student, Larissa Pepper, thanked donors on behalf of all students receiving awards. Pepper is a TRU Ambassador Scholarship Recipient and was presented with the Co-op Student of the Year Award at today's ceremony.
Longtime donor, Roland Neave, owner of Wells Gray Tours, was among those attending. The Neave family has established three endowments that support students in Tourism, Geography, and the Horticulture program. This year close to $8,000 was awarded from these endowments.
The awards ceremony was also a time to recognize the winner of the Lieutenant Governor's Silver Medal, which is presented annually to a student who has graduated from a program of less than two years in length. Sandra Cantin completed the Infant/Toddler Post Diploma Certificate in June while maintaining a high GPA, volunteering at her daughter's school, and providing leadership and peer support through Supplemental Learning.
---
New awards this year
Sun Ridge Equipment Aboriginal Trades and Technology Bursary – $500
CheckMate Fire Prevention Award – $500
Cloverdale Paint Award – $800
Catherine Gowans Chappell-Vivian Noble Shaw Bursary – 2 awards at $2,000
John Hammond Trades Bursary – $1,000
Joe Stanley Michel (Cicwelst) Memorial Award – $1,000
Jack and Verna Miller Bursary – $1,000
Rescue Canada Adventure Scholarship – $1,000
Ted Harrison Foundation Award – $1,000
Ruth Jane Baillie Guichon Nursing Bursary – $1,000
---
The Foundation's awards ceremony is the largest of several awards ceremonies held throughout the year. The next will be in December at TRU Williams Lake. In total over $1 million is awarded throughout the year to students through funds raised by the Foundation. This is in addition to TRU-funded awards and government grant programs that students receive. The figures above do not include the Williams Lake ceremony.