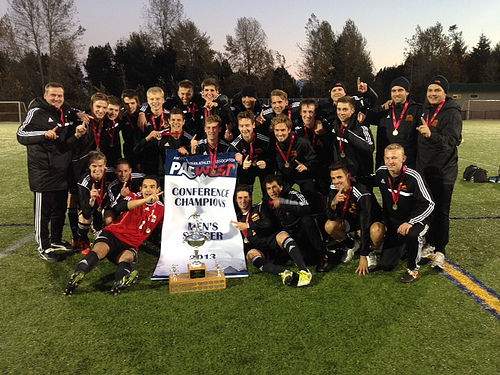 The women's and men's soccer teams are in the national championships, Nov. 6-9, and with the accomplishment, have made TRU history.
It is the first time both squads have advanced to the Canadian Collegiate Athletic Association championships in the same season.
The women's championships is being played in Surrey, BC, while the men are in St. John, NB.
Follow the women's CCAA championships
Follow the men's CCAA championships
---
WOMEN'S SOCCER provincial championships recap
The women earned their trip to the national tournament with a 1-0 win in the PACWEST provincial championship final against Quest Kermodes in Nanaimo on Oct. 27.
To reach the final, the Pack thumped Langara Falcons 5-1 in the semis the day before.
This is TRU's third-straight trip to the CCAA championships.
---
MEN'S SOCCER provincial championships recap
Because both teams playing in the PACWEST provincial final would earn trips to Atlantic Canada, the men needed only to win their semifinal match on Oct. 26.
They did that with 2-1 decision over host Malaspina Mariners of Nanaimo.
To prove they're worthy of the trip to New Brunswick, the WolfPack won Sunday's championship with a win 4-3 decision over Douglas College in penalty kicks.
The two sides had been locked at 1-1 after regulation.
---