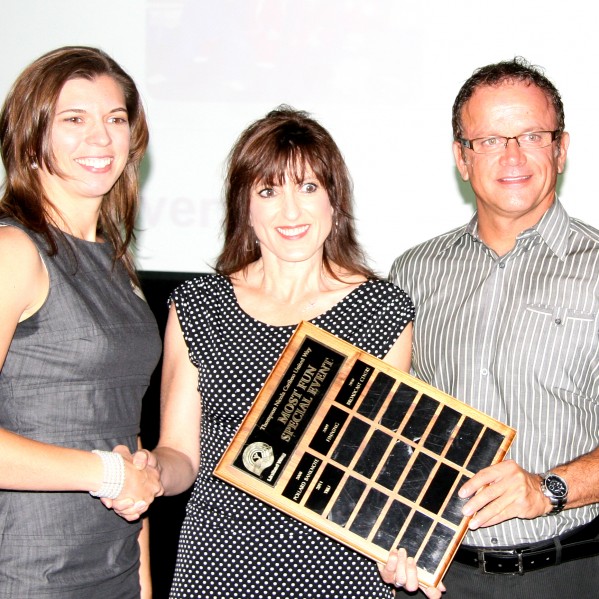 At the annual United Way Kick off breakfast TRU's United Way Committee was recognized by Thompson Nicola Cariboo United Way for having the Most Fun Special Event during the 2011 campaign. Although not the biggest fundraiser of the campaign, Tie/Pie Tuesday, organized by Human Resource Advisors Jennifer Billingsly, Bernie Mahoney and  Melanie Reed, the one-day event is the biggest fun-raiser.
Sue Porter, a member of this year's campaign cabinet and presenter of the award said, "Our great partners of higher learning at TRU came up with an ingenious plan to have some fun with faculty and senior management: Tie/Pie Tuesday:  A little payback for all those papers and late night study sessions. So, for a $5 dollar or larger donation to United Way, individuals had the chance to throw a pie in the face of a TRU senior leader. If pies didn't excite folks, they could cut the same individuals tie for the same donation."
Held for the last two years, the event has raised about $1500. But the focus is to raise awareness, get the university community engaged and to have some fun. "We want to applaud the TRU United Way committee on their creativity and ability to have a lot of fun with each and at the expense of each other. We sure appreciate benefiting from it," Pat continued.
Plans already under way for the 2012 version of Tie/Pie Tuesday. If you want to be involved contact unitedway@tru.ca