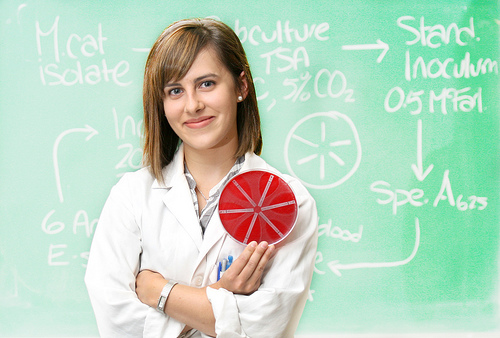 Tamara Bandet is a Bachelor of Science student, majoring in Cellular, Molecular and Microbial Biology. The Newsroom asked Tamara about doing undergraduate research at TRU.
TRU: Your project is titled, "Susceptibility of pathogenic Moraxella catarrhalis isolates from six hospitals in the B.C. Southern Interior to six empirically prescribed antibiotic agents". Boil it down for us.
TB: Moraxella catarrhalis is an emerging pathogenic bacteria that causes both upper and lower respiratory tract infections in children and elderly people. During this surveillance project, I have been testing the susceptibility of these bacteria to antibiotics that are commonly prescribed to fight their infections. It is important that the resistance patterns of this pathogen be monitored to ensure that the antibiotic agents used today will continue to be effective in years to come.
TRU: What attracted you to the research?
TB: I have always known that I wanted to conduct research in my undergraduate degree and am grateful for the opportunities I have had at TRU. What attracted me to this particular project were the similar research projects undertaken by previous students in this field and the chance to work with great people.
Read more Q & A's:

Rolena DeBruyn, Ecology and Environmental Biology
Tingting Li, Tourism Management
Ashley Morrison, Animal Biology
Steven Holm, Finance and Economics
Paige Hegadoren, Physics
Timothy Crowe, Microbiology
James Pomfret, Animal Biology
Sara Burchnall, Economics and Accounting
Katie DeGroot, Ecology and Environmental Biology
TRU: You received an Undergraduate Research Experience Award Program (UREAP) grant. How did you use it?
TB: I used my UREAP grant to buy all the necessary lab consumables for my research. The six different kinds of antibiotics strips that I'm testing were by far my biggest purchase. Research sure isn't cheap. I am also using the funds for tuition this year.
TRU: Are you are doing research this summer?
TB: I am doing my research here on campus in the microbiology laboratory throughout the summer and will continue to work on this project into the fall.
TRU: Will your project lead to a presentation or publishing opportunity?
TB: When my research is complete, I will be presenting my findings at the TRU Undergraduate Research Conference. Additionally, I will submit abstracts to the Canadian Society for Microbiology, the American Society for Microbiology and the Society for Applied Microbiology in hopes of representing TRU at their general meetings/symposiums. As for publication, that certainly is the goal. The peer-reviewed Canadian Journal of Infectious Diseases & Medical Microbiology is one of the journals we have our eyes set on.
TRU: What do you love about research? What don't you like about it?
TB: I like that research is always a surprise. When you have set out to answer a particular question, you may end up answering a slightly different question which then leads you to a whole set of new avenues to explore. Research is exciting. You are working on something that hasn't been done before and you're learning from and building upon the knowledge that has come before you. I find that humbling. One thing that I don't like about research is that it is incredibly time-consuming and nothing works the first time. I certainly appreciate the patience scientists must develop.
TRU: Who in your field do you admire and why?
TB: I admire my professors and supervisors above all for their dedication to science and to their students. In particular, I admire my supervisor Dr. Naowarat (Ann) Cheeptham who is so passionate about her work and teaching. You can tell that she loves what she does, and her enthusiasm is infectious. Dr. Cheeptham and my co-supervisor, Dr. Ken Wagner have been incredible mentors and the help I've received from Sue Whitehead and Dr. Lei Ang at Royal Inland Hospital has been invaluable.
TRU: What impact do you hope your research will have?
TB: I hope my research will help clinicians decide which antibiotics to use when their patients are faced with M. catarrhalis infections.
Read more from our Q & A series on undergraduate student researchers.