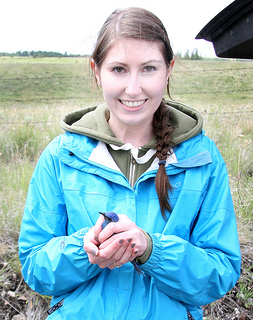 Ashley Morrison is a Bachelor of Science Honours student, majoring in Animal Biology. The Newsroom asked Ashely about doing undergraduate research at TRU. Third in our series.
TRU: Your project is titled, "Is plumage colouration an indicator of direct reproductive benefits in mountain bluebirds?". Boil it down for us.
AM: I am studying mountain bluebirds to determine if the brightness of their plumage colouration can be a signal to potential mates of the amount of parental care they provide to their offspring and/or their level of reproductive success. Brighter birds are thought to be of higher quality because they are better able to acquire nutrients above what they need to survive, and are able to use that extra energy to produce brighter feathers and invest more in their offspring. I set up cameras at the nest to record the number of feeding trips the parents take to the nest and compared the results to feather samples from each individual. So far, I have found some really interesting results, and am excited to see how last season compares to my data this year.
---
Read more Q & A's:
Rolena DeBruyn, Ecology and Environmental Biology
Tingting Li, Tourism Management
Steven Holm, Finance and Economics
Paige Hegadoren, Physics
Tamara Bandet, Microbiology
Timothy Crowe, Microbiology
James Pomfret, Animal Biology
Sara Burchnall, Economics and Accounting
Katie DeGroot, Ecology and Environmental Biology
---
TRU: What attracted you to the research?
AM: I have always wanted to try my hand at research, but I didn't know exactly what I was interested in. After taking one of Dr. Matthew Reudink's evolution classes, it sparked my interest in animal behaviour and sexual selection, particularly in birds. I approached Matt about the possibility of doing research, and together we came up with this project, which encompassed my interests and his expertise. My advice to any students thinking about doing research is to not be afraid to ask. You never know what might come of it. I am definitely glad I did. Working on this project has been an amazing experience and I have learned many skills that I will carry with me in the future.
TRU: You received an Undergraduate Research Experience Award Program (UREAP) grant. How did you use it?
AM: I used my grant to cover the cost of travelling back and forth to my field site, and to attend the North American Ornithological Conference in August.
TRU: Are you are doing research this summer? Where?
AM: I am conducting my research in the Knutsford area of Kamloops, where the Kamloops Naturalist Club had previously set up bluebird nestbox trails. Last summer, I completed my first season of data, and am currently gathering a second season of data to strengthen my results.
TRU: Will your project lead to a presentation or publishing opportunity?
AM: In August, I will be presenting my research in a poster at the North American Ornithological Conference in Vancouver. Afterwards, I hope to submit my paper for publication in a peer-reviewed journal.
TRU: What do you love about research? What don't you like about it?
AM: I love seeing a project from start to finish: formulating a question that you want to answer, deciding how to go about answering that question, and seeing the results at the end. I think research is extremely important, especially for undergraduates, because it gets students thinking about how to ask questions about the world around you and different methods you could use to test that question. It also teaches students how to manage a project, follow a timeline, write reports, present data, and give oral presentations; all of which are necessary skills for post-graduate studies and a professional career. What I don't like about research is the unexpected events that can happen which can set you back, however that is all part of doing research.
TRU: Who in your field do you admire and why?
AM: I really admire my supervisor, Dr. Matthew Reudink, whose enthusiasm for the field is contagious. Without his support, this project would not have been possible. I also admire Geoffrey E. Hill as he has made many contributions to research on bird colouration.
TRU: What impact do you hope your research will have?
AM: I hope my research will help add to our knowledge of structural (blue) plumage colouration, as most research that has looked at the signalling potential of plumage colouration has focused on carotenoid-based (orange, red, and yellow) colouration. I also hope that my research will give some insight into the function and evolution of female plumage colouration.
Read more from our Q & A series on undergraduate student researchers.