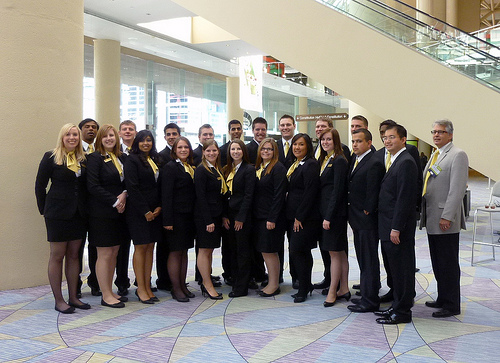 TRU's Students In Free Enterprise (SIFE TRU) good work in Kamloops has earned the group awards both locally and nationally.
The United Way Thompson Nicola Cariboo presented SIFE TRU with the 2011 "Youth Inspired Spirit Award" for their generous contribution to the community at the Community Spirit Awards, May 26. A few weeks earlier the SIFE TRU team won multiple awards at this year's challenging Advancing Canadian Entrepreneurship (ACE) National Exposition in Toronto.
Kaitlin O'Leary, the Community Development Coordinator of United Way, says the SIFE TRU students earned the Spirit Award by going well above the award requirements by developing programs that provide ongoing support to the community. "They are everywhere in the community, it's great to see a group of youth so community minded."
Some of these programs also helped the SIFE TRU team demonstrate how they have redefined lives in Kamloops at the SIFE National Exposition, earning them a spot in the semi-finals. Their presentation showcased five of their programs: Inspiring Young Minds, Thompson Rivers Consulting, Environomics, the Tony Brower Innovation Exposition and LiveFree.
The full team was named the National Winner for Campbell's Lasting Hunger Relief for teaching about hunger awareness and relief. In their Inspiring Young Minds program, SIFE students teach at-risk youth the benefits of graduating and getting a job so that no youth goes hungry. In the LiveFree program, they teach brain injury survivors how to budget and save, as well as the financial benefits of home-cooked meals, so they won't go hungry.
SIFE TRU President Chelsey Tennant won the Student Leader of the Year Award for being the student president who has made an outstanding contribution to their SIFE team. Chelsea has also been recognized for her leadership skills with the 2011 TRU Distinguished Alumni Rising Star Award, presented in April.
SIFE TRU student Mike Loukopoulos was awarded an ACE John Dobson Founder's Bursary for exhibiting leadership and teamwork in his SIFE program.
The SIFE program, operated by ACE, provides university and college students access to real world experience, through the implementation of economic outreach projects that complement in-class studies. The 2011 SIFE national competition took place between May 10 and 11 in Toronto. Over 1,000 delegates, including 45 teams of university and college students, academic professionals and top Canadian CEOs, took part in this annual gathering around the shared cause of building a better Canada.
Quotes: "This year has been SIFE TRU's most successful year ever. It was an amazing team effort, and a year's worth of hard work that allowed our team to perform so well at competition. I am so proud of our team and can't wait to see what they achieve next year" – Chelsey Tennant, outgoing president of SIFE TRU
"As everyone involved in SIFE is so passionate about what we do, I was completely inspired and honoured to be one of them. We are making such an incredible impact in so many lives and I loved seeing the innovative ways that the other teams are doing the same." – Erica Stewart, incoming president of SIFE TRU
Links: http://sifetru.ca/