Posted on: October 11, 2017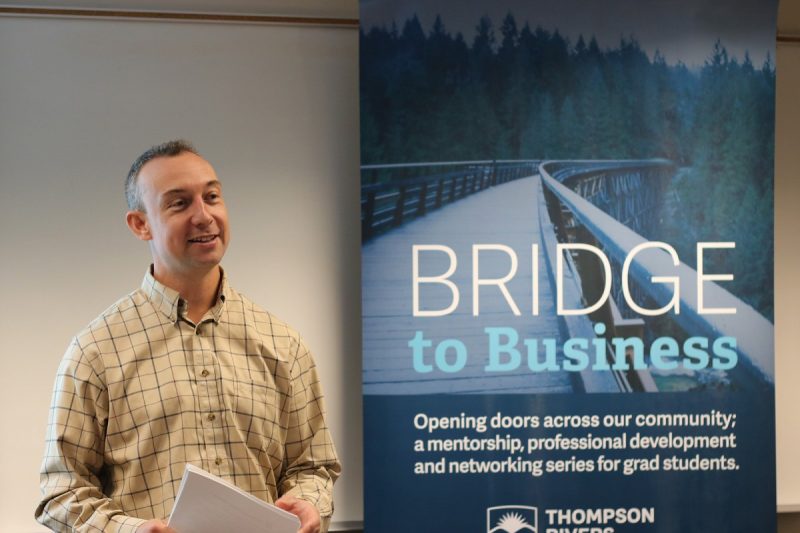 The School of Business and Economics (SoBE) has launched a new initiative to connect current graduate students with the business community of Kamloops and to improve their suite of professional skills—the abilities they will need to succeed as leaders after graduation.
Appropriately titled Bridge to Business, this series enhances the experience and knowledge gained in the classroom by SoBE graduate students.
"We developed this program around experiential learning opportunities and complementary resources with a goal to advance the leadership, professional and foundational skills of our graduate students. Improving collaborative relationships within the Kamloops community is fundamental to this series," said Colin O'Leary, Bridge to Business project manager.
Workshops with experts and guest speaker events have already taken place with upwards of 65 students vying to participate in the program. Learners are benefiting from a variety of activities, from hearing strategies on stress management to developing proven leadership skills.
"Connecting business people to TRU students is vital for the growth of our community. Through these interactions, students will develop relationships with experienced business leaders, helping with their individual success," said Paul Ross, Kamloops Chamber of Commerce president. "Businesses will benefit as students feel more connected to Kamloops, helping them make a decision to live and work here."
A career retreat later this month will cover topics on career development strategies, work-search tactics and interview skills. It will include employer presentations where a panel of professionals will share their hiring policies.
Students in the Master of Business Administration (MBA), Master in Environmental Economics and Management (MEEM) and Master of Science in Environmental Economics and Management (MScEEM) programs are already befitting from the hands-on learning approaches and networking opportunities.
"As a human resources professional with years of experience in recruiting, I can vouch that a program like Bridge to Business is as valuable, if not more, than a degree," said Tallal Althwain, a current student in TRU's MBA program.
The launch and networking event happens Wednesday, Oct. 25 from 5:30 to 7:30 p.m. in the International Building foyer. Attend this event to learn more about this ground-breaking program. Network with SoBE's best and brightest graduate students, influential community business leaders and get to know the business and economics faculty and staff in a more meaningful way.
"Bridge to Business is going to have a major impact, not only on the students but also our local business community. We're very excited to see where this takes our relationship with local industry, nonprofits and the entrepreneurial and start-up community," added Mike Henry, dean of SoBE.
More information
Colin O'Leary
Project Manager, Bridge to Business
coleary@tru.ca
778-471-8391