Posted on: April 6, 2017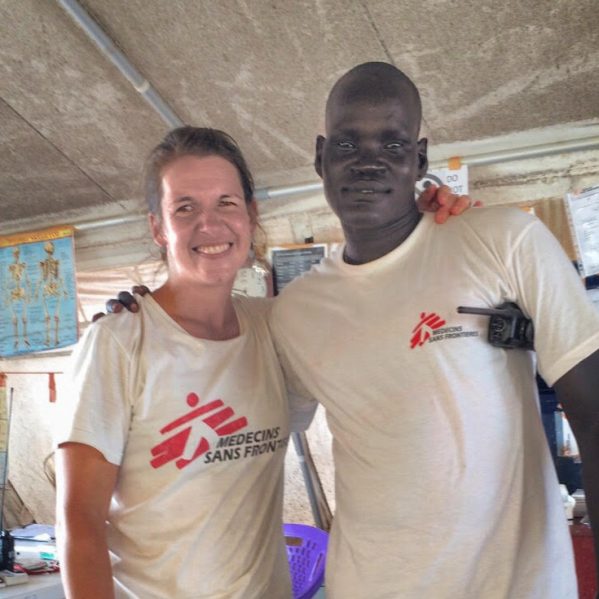 When Sara Goddard entered the TRU nursing program she had her sights set on a career in mental health. That all changed after a practicum experience where she discovered a passion for patient care that set her on a path to remote nursing.
"My third year practicum in Samoa opened my eyes to an entirely different type of nursing and the challenges of working in settings with limited resources," said Goddard. "The international aspect of the nursing program is hugely beneficial to students, whether they want to pursue international nursing or not."
After graduating with her Bachelor of Science in Nursing (BScN) in 2009, Goddard took a position working at a rural hospital in Lillooet, BC, where she spent four years establishing a diverse set of skills and gaining the confidence to shift her focus towards remote practice.
"TRU provides a wide base of knowledge with which students can focus their careers following graduation. I think it is important to establish a good medical knowledge base before jumping into environments that have fewer support systems," she said.
"I had a great team in Lillooet who taught me so much. We can learn from books and instructors but the art of nursing is taught through experience and through listening to those more experienced than us."
She has spent the last four years working as the sole community health nurse for the Xeni Gwet'in First Nation, an isolated community in the Nemiah Valley, an unincorporated reserve in the Chilcotin District of BC. "There are huge discrepancies in access to health care between First Nations and non-First Nations communities. While I love international work, I also feel very strongly about working with challenges at home," adding that First Nations health is extremely close to her heart.
Looking to expand her international work experience, Goddard applied for a position with Medecins Sans Frontieres (MSF), also known as Doctors Without Borders—a competitive process that can take up to six months. As a successful candidate she joined the MSF staff and recently completed a seven-month contract as an emergency room supervisor in the Bentiu UN Protection of Civilian's Camp (PoC) in South Sudan.
MSF was founded in 1971 and is an independent, international organization that delivers emergency aid to people in more than 70 countries affected by armed conflict, natural disasters or exclusion from health care. MSF's commitment to political neutrality often provides a level of security for its staff, even when stationed in war zones.
MSF runs a 160-bed hospital providing secondary healthcare, surgery and emergency services to the population of the camp. The camp is home to 120,000 civilian refugees living in an area not much larger than the TRU campus. With only three doctors in the entire hospital, nurses get the opportunity to gain experience working with extremely limited resources.
"I love the opportunity to get a glimpse of worlds that are so different from mine," said Goddard. "If I can make someone's day a bit easier by providing them with an ear, by connecting someone to resources, or by providing medical care in a culturally sensitive way, I feel like I am doing my job."
The hours and the days are long, demanding, and sometimes very dangerous with many of the patients seeking treatment for gun shot and machete wounds, but despite all of that, Goddard says she feels inspired by the strength and resilience she observed.
"I was born into relative privilege, simply by the color of my skin and the country in which I was born. To me, this is luck, and I want to use my own luck to advocate for those less privileged, perhaps more marginalized and because there is power behind our unified voices."
The School of Nursing provides students with opportunities for international practice placement, chances to study abroad, and practicum placements in rural communities for those who are interested in working internationally after graduation. In addition Open Learning offers programs such as Return to Nursing Practice and TRU World offers Internationally Educated Nurses.