Posted on: February 10, 2016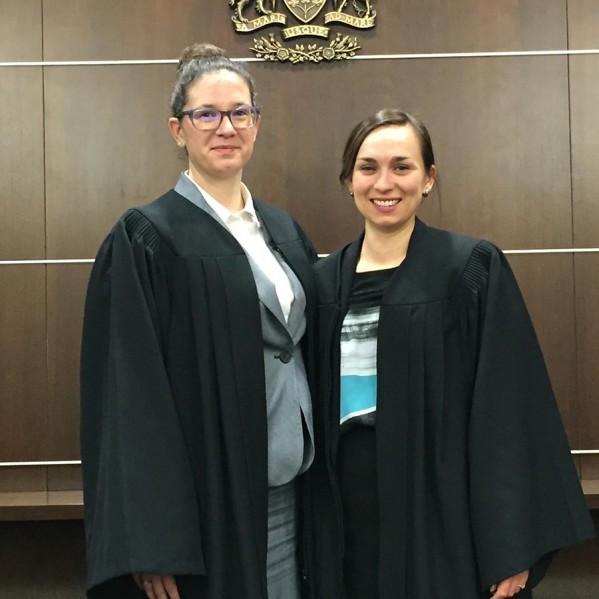 Two TRU law students competed in the McIntyre Cup—the Western Canadian law competition in trial advocacy—in Calgary last weekend. This is the first time TRU Law has sent a team since its inception in 2011. The moot was hosted by the University of Calgary and a total of eight teams competed in the mock trials.
Third-year TRU Law students Kelly Melnyk and Olivia Harvey competed against teams from the University of Victoria, University of British Columbia, University of Alberta, University of Saskatchewan, University of Manitoba and two teams from host University of Calgary.
The case was a criminal law scenario on criminal negligence causing death, and Melnyk and Harvey acted as the defence counsel for the accused.
While the pair did not advance to the national Sopinka Cup, they were very close on the heels of both U of A and UBC, who took second and first place respectively.
TRU Law Dean Brad Morse says he is proud of their effort.
"Word from their coach (sessional TRU Law faculty member and Kamloops Senior Crown Counsel Tim Livingston) is that they performed extremely well," said Morse.
Melnyk and Harvey have been studying and practicing their simulated trial under Livingston since November, when they were selected for the competition after an application process.
"The experience was fantastic—challenging and rewarding—and the skills we were able to build thanks to our coach will serve as a strong foundation for our future careers. This is one of the rare opportunities in law school to go through the process of litigation from trial preparation to verdict," said Melnyk, noting that it was also a great opportunity to network with other students across Canada.
The McIntyre Moot is an official course offering in the law curriculum and each student receives full course credit. TRU Law also offers three other moots that see students compete in the BC Cup, the Kawiskamhon Cup (Aboriginal-focused) and the Wilson Cup (constitutional law-focused).