Posted on: April 17, 2015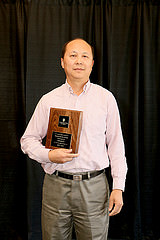 Each year TRU recognizes outstanding achievement of its faculty and staff with merit awards. As well those with 10 years or more of service are recognized in five-year increments.
What follows is those recognized during the President's Annual Merit & Staff Awards held April 16, 2015.
2015 TRU Master Scholar Award

Dr. Roger Yu
Faculty of Science
Dr. Yu is a full professor in Mathematics and Statistics and the Director of the Centre for Optimization and Decision Science, who has worked at TRU since 1991. He completed his MSc in China and received his PhD from Simon Fraser University. Yu is a well-respected researcher in pure mathematics with an international reputation for first-rate work in areas including graph factors, colouring, domination and applications including predictive modelling. He has been published in more than 75 journals, presented papers at 25 conferences and has served as the mathematical editor for four international journals. An adjunct at several institutions, he has successfully collaborated with industrial partners such as Teck Resources (formerly Teck Cominco). Yu has held several grants including NSERC Discovery, Engage and Engage Plus. He has been recognized for his important contributions towards improving the sustainability of the large-scale mining industry. His NSERC Engage research was nominated for the Towards Sustainable Mining Environmental Excellence Award from the Mining Association of Canada in 2013. His undergraduate students have benefited from co-authoring papers and through his influence, many have gone on to pursue graduate studies.
---
2015 TRU Award for Excellence in Scholarship
Dr. Sean McGuinness
Faculty of Science
McGuinness is an Associate Professor in Mathematics and member of the Centre for Optimization and Decision Science, who has worked at TRU since 2007. He completed his MSc at Queens and his PhD at the University of Waterloo. He works in the area of mathematics known as combinatorics, broadly defined as the study of discrete structures, and specializes in graph theory and matroid theory. McGuinness has been successful in providing his undergraduate students research opportunities through NSERC Undergraduate Student Research Awards, CUEF and his NSERC Discovery Grant. Through their research experience many of these students have gone on to co-publish articles in international journals with McGuinness and to pursue their own graduate studies. He has been published in 35 journals and has been invited to present internationally at numerous math seminars and conferences.
---
2015 TRU Teaching Excellence Award, On Campus Instructor
Dr. Mohammad Mahbobi
School of Business and Economics
Mahbobi is a Provost's Fellow in Student Retention and Engagement and senior lecturer in Economics and has worked at TRU since 2004. He completed a Teaching Diploma in Sciences, followed by a BSc, and MSc in Economics and received his PhD at the University of Saskatchewan. A gifted, engaging teacher who is known to be an exceptional mentor both to fellow faculty and his students, Mahbobi has a passion for student success. Despite teaching challenging upper level courses on the topics of econometrics and business forecasting, he consistently receives high student evaluations. He is a scholarly teacher who integrates research in teaching and learning inside and outside the class. Mahbobi has been a key organizer and promoter of the TRU Undergraduate Research Conference and was recognized with the TRU Undergraduate Research Mentor Award for this significant effort.
Dr. Siva Prasad Ravi
School of Business and Economics
Prasad has been the Chair of the Management department since 2012 and has worked at TRU since 2008. He completed his MSc in Electronics, BEng in Computers & Telecommunications, MEng in Industrial Engineering, LLB (Hons) in Taxation, MBA and PhD in Management. A versatile, gifted teacher, Prasad brings rich international teaching experience to the wide range of courses he teaches in management. In 2014 he received the MBA Instructor of the Year award from the graduating class, and in 2013 he was recognized with the Dean's Excellence in Teaching Award in the School of Business and Economics. He supports student learning in both the classroom and the community, often using business consultation for student projects. Students and colleagues acknowledge Prasad's superior ability to motivate, stimulate and excite students to achieve the highest standards while at TRU and as they embark on their careers or graduate studies.
---
2015 TRU Teaching Excellence Award, Open Learning
Ron Lakes
Open Learning Division
Lakes is an Open Learning Faculty Member in the Open Learning Division and has worked at TRU since January 1980. He completed his MA in Sociology at the University of Toronto and his MBA at the University of British Columbia. Recipient of the Distinguished Service Award in 2008, He is considered an elite when it comes to engaging students and ensuring that he knows exactly where each student is in each of their courses. With students numbering in the hundreds, he contacts each one with a personal welcome letter, maintains detailed notes on each, and is always welcoming and encouraging. Lakes' extensive distance teaching experience allows him to diagnose and correct misconceptions in student work and to provide the right kind of support for each individual difficulty.
---
2015 TRU Environmental Achievement Award
for Faculty & Staff
Dorys Crespin-Mueller
Institutional Planning and Analysis
Crespin-Mueller is the Director, Institutional Planning & Analysis and has worked at TRU since 1997. She completed her BA in Sociology in 1998 from UBC/UCC and her MBA in 2005 from Royal Roads University. She has dedicated many hours towards the advancement of sustainability at TRU; both in her role as member on various sustainability related committees and in her role as director at IPA. A member of the Environmental Advisory Committee for three years, she was on the subcommittee that co-developed the Leadership in Environmental Sustainability Certificate, worked to develop policy to support sustainability as a strategic goal, and assisted the TRU community to understand and fulfill their responsibilities with respect to environmental sustainability. Her meaningful contributions to the various committees have played a significant role in sustainability becoming an institutional priority and have been well observed by the entire community.
---
2015 TRU Distinguished Service Awards
Dr. Dennis Acreman
Faculty of Science
Acreman is the Associate Dean in the Faculty of Science and has worked at TRU since 1989. He received his PhD in Mathematics from the University of New South Wales, Australia. During his lengthy career at TRU Dennis has been instrumental in expanding course offerings in math and statistics, establishing the Math Help Centre and expanding co-op options for math students. Acreman has served as program chair, associate dean and as interim registrar, led internal fundraising campaigns and guided the rigour and supports for the Aboriginal TRU Start program. He also co-chaired the steering committee for the NStQ-TRU partnership on educational and labour force development with First Nations communities near Williams Lake. In all these roles, he has performed above expectations and with TRU's best interests at the forefront. Acreman ensures the right questions are asked, that students are first and that resources are prudently managed. His unimposing leadership and collegial approach has garnered him respect from a broad constituency and is a testament to his judgment and commitment to TRU.
Ross Cloutier
Faculty of Adventure, Culinary Arts and Tourism
Cloutier is the Chair and an Associate Professor in the Adventure Studies program in the Faculty of Adventure, Culinary Arts and Tourism. He has worked at TRU since 1992. Ross has been credited as the originator of the Adventure Guide Diploma and in doing so made UCC the first university to add Adventure to its curriculum. Twenty-three years later Adventure Studies is globally recognized as a centre for adventure tourism excellence. Cloutier has been instrumental in transferring the training offered by the Association of Canadian Mountain Guides to the department. He has also committed his time and energy towards developing adventure tourism in Chile, going above and beyond to give TRU students an opportunity to work with Chilean government and locals. His book, Legal Liability and Risk Management in Adventure Tourism, was a vanguard on the topic in 2000. His ground-breaking review of the Strathcona-Tweedsmuir School put a spotlight on the roles of complacency and risk tolerance in adventure. Ross has always been a step ahead in the arena of adventure and risk management.
Staffen Liu-Calver
TRU World
Liu-Calver is an International Student Advisor with TRU World and has worked at TRU since 2005. As a longstanding member of the ISA team, Staffen has shown tremendous integrity for student services and works diligently to provide the best possible care, often going above and beyond to help her students succeed during their time at TRU. Perhaps the biggest, most public example of her contributions to campus is the Chinese New Year Festival she oversees each year. She works tirelessly with students to build a meaningful event that showcases student talent and embraces Chinese culture. In addition to the role she plays in organizing major events like Convocation and IDays, she supports the largest group of international students on campus through one-on-one meetings with them for cultural support and translation. She has spearheaded several programs to make ISAs more visible and accessible around campus. Liu-Calver is also responsible for Chinese language proficiency testing and often meets with Teaching English as a Second Language instructors about culture, intercultural communications and foreign language systems.
Terra Lundy
Recreation Department
Lundy is a fitness instructor in the Recreation Department and has worked at TRU since 2009. Few on campus have the opportunity or ability to connect and make a difference to such a broad and diverse sweep of the TRU community as Lundy has. Her positive outlook and dedication to students, faculty and staff is clearly evident in her weekly classes. Regardless of your fitness level, whether you have been at TRU for decades or you meet her during your first week of class, she makes you feel welcomed and accepted. Lundy works through language barriers, sets up extra challenges for WolfPack athletes or makes modifications to accommodate lesser fitness levels. Her retention and engagement rates remain consistent and high and she continually improves her skill set and knowledge to enhance her classes. She motivates participants towards good health with fitness challenges, nutrition insight and by combining charity with fitness—a powerful mixture that is healthy and good for the human spirit.
---
Years of Service
45 Years of Service (began work in 1970)
Lois Peters — Faculty of Human, Social and Educational Development
---
35 Years of Service (began work in 1980)
Wesley Cole — IT Services
Wilma de Jong — Open Learning Division
Michael Edgell — Open Learning Division
Pat Howe — IT Services
Ron Lakes — Open Learning Division
Rocky Mirza — Open Learning Division
Ginny Ratsoy — Faculty of Arts
Gordon Rudolph — Open Learning Division
Grace Simpson — Williams Lake Campus
Don Stanley — Open Learning Division
Elizabeth Templeman — Faculty of Student Development
---
30 Years of Service (began work in 1985)
Lucille Anderson — Faculty of Science
Debbie Blackwell — Finance Division
Marvyn Fitzpatrick — Faculty of Human, Social and Educational Development
Deanna Ries — Auxiliary Group
Susan Scott — School of Business and Economics
George Weremczuk — Faculty of Science
---
25 Years of Service (began work in 1990)
Trish Archibald — Faculty of Human, Social and Educational Development
Alan Brandoli — Faculty of Arts
Kim Clow — Ancillary Services
Annette Dominik — Faculty of Arts
John Dumesnil — Faculty of Science
Doug Ellis — Faculty of Adventure, Culinary Arts and Tourism
Jay Goddard — Williams Lake Campus
Karen Hofmann — Faculty of Arts
Tracy Hoot — School of Nursing
Kearnon Kanne — Open Learning Division
Brant Leigh — Student Services
Mairi MacKay — Faculty of Science
Mary Madden — Faculty of Human, Social and Educational Development
David McFarlane — IT Services
Diana McMillan — Student Services
Karen Moberg — Williams Lake Campus
Christopher Montoya — Williams Lake Campus
Yolande Morin — Open Learning Division
Peter Murphy — Faculty of Arts
Jane Ouellette — Finance Division
Penny Pentilchuk — Student Services
Donna Petri — VP Academic and School of Nursing
Shane Rollans — Faculty of Science
David Roos — School of Trades and Technology
Maureen Smith — Open Learning Division
Rick Walker — IT Services
Brian Ward — School of Trades and Technology
---
20 Years of Service (began work in 1995)
Beth Bedard — Williams Lake Campus
Kim Calder Stegemann — Faculty of Human, Social and Educational Development
Susan Dahlback — Williams Lake Campus
Murray Doubt — IT Services
Dawn Farough — Faculty of Arts and Open Learning faculty
Giselle Kolaric — Faculty of Arts
Mindy Marshall — Faculty of Science
Ron McGivern — Faculty of Arts
Kim Moshenko — Faculty of Human, Social and Educational Development
Tom O'Byrne — Facilities Services
Marty Old —School of Trades and Technology
Mark Perry — Faculty of Adventure, Culinary Arts and Tourism
Hafiz Rahman — School of Business and Economics and Open Learning faculty
---
15 Years of Service (began work in 2000)
Renée Anderson — School of Nursing
Lloyd Babcock — School of Trades and Technology
Anne Baker — Faculty of Arts and Open Learning faculty
Cara Cadre Faculty of Arts
Alex Church — Faculty of Human, Social and
Educational Development
Hasnat Dewan — School of Business and Economics
Laura Doan — Faculty of Human, Social and Educational Development
Kingsley Donkor — Faculty of Science
Liza Donkor — Finance Division
Catrina Ertel — Williams Lake Campus
Normand Fortier — Faculty of Science
Sarah Graham — Student Services
Brian Harris — Finance Division
Vicki Holmes — School of Nursing
Rob Hood — Faculty of Adventure, Culinary Arts and Tourism
Norma Ihlen — Ancillary Services
Jeff Jordan — Faculty of Adventure, Culinary Arts and Tourism
Ernie Kroeger — Faculty of Arts
Sharman Learie — Faculty of Adventure, Culinary Arts and Tourism
Randy Moss — Faculty of Science
Marc Nadeau — Facilities Services
Vicky Reid — Human Resources & Planning
Rob Swanson — Open Learning Division
Anita Swing — Faculty of Arts
Sandra Verhoeff — Marketing and Communications
Karen Wiens — IT Services
---
10 Years of Service (began work in 2005)
Philip Blanchard — Open Learning Division
Doug Buis — Faculty of Arts and Open Learning faculty
Mark Butorac — Open Learning Division
Jason Dabner — School of Trades and Technology
Daniel Dorogi — Faculty of Arts
Dan Erickson — IT Services
Susan Forseille — Faculty of Student Development
Avninder Gill — School of Business and Economics and Open Learning faculty
Bobby Gill — IT Services
Vicky Gold — School of Business and Economics
Joel Gourley — Faculty of Human, Social and Educational Development
Adina Gray — School of Business and Economics
Marion Hannaford — Student Services
Michelle Harrison — Open Learning Division
Charles Hays — Faculty of Arts
Pat Hennelly — Athletics and Recreation
Vicky Hockey — Finance Division
Margaret Hohner — Regional Centres, Lillooet
Belayet Hossain — School of Business and Economics and Open Learning faculty
Heidi Huttunen-Hennelly — Faculty of Science
Stacey Jyrkkanen — Human Resources and Planning
Heather Kansky — Faculty of Human, Social and Educational Development
Bruce Lamore — Finance Division
Staffen Liu-Calver — TRU World
Jodi Lundgren — Open Learning Division
Rudy Matter — Ancillary Services
Gary McLaughlin — Open Learning Division
Deb McWade — Faculty of Science
Christina Mohr — Faculty of Science and Open Learning faculty
Angela Morice — School of Nursing
Kim Morris — School of Nursing
Sherry Murdoch — Open Learning Division
Arlene Olynyk — Office of University Advancement
Diane Pitts — Faculty of Arts
Carol Ryujin-Kawa — Student Services
Trina Sampson — University Library
Monica Sanchez-Flores — Faculty of Arts and Open Learning faculty
Uli Scheck — Office of the Provost and VP Academic
Diana Skoglund — Marketing and Communications
Richard Taylor — Faculty of Science
Brian Thorburn — Open Learning Division
Randy Underwood — Williams Lake Campus
Laurel Wale — Administration and Finance Division
Scott Walker — Open Learning Division
Mark Wallin — Faculty of Arts
Julie Walshaw — School of Nursing