Posted on: February 12, 2015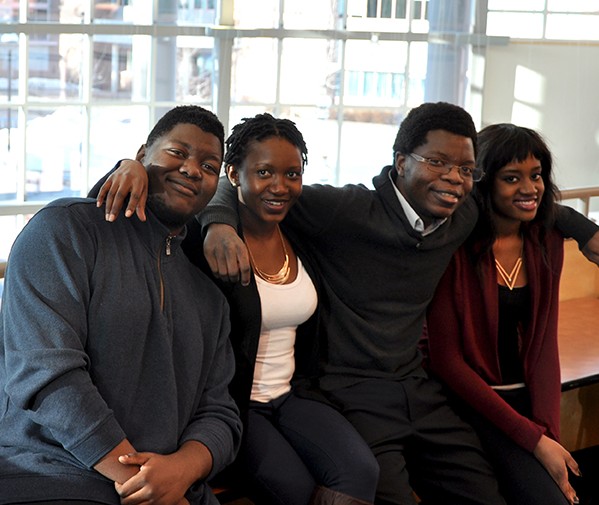 By Kara Evans
When you're thinking about moving 15,000 kilometres away from family and friends for school, homesickness is to be expected. Throw in adjusting to university life and cultural differences, and being an international student can be overwhelming. But when recent graduate Idah Msiska ('14) considered coming to TRU from her home country of Zambia, family made all the difference.
Msiska said one key factor in her choice was her father's diligence in researching post-secondary institutions.
"He's a man who values education highly," she said. "He's always had this belief that smaller universities will provide you with a better fit if you're studying in a country that you've never been in, because you won't feel as lost."
That belief had already led three of Msiska's nine siblings to attend TRU. When she arrived in Canada in turn to begin a Bachelor of Arts, her two brothers, Moses and Richard, as well as sister Wiza, became an essential reference point as she settled into campus life in a new country. She was later joined by two younger siblings, Berlin Jr. and Ezinara.
With her siblings to help her quickly make the most of student life, she switched programs to the Bachelor of Journalism, with a major in public relations, and enjoyed opportunities to interact with the diverse community at TRU. Getting involved on campus as Vice-President of the Pan African Club, as a member of the Intercultural Council, and as a volunteer at various events opened her to learning about other cultures.
"TRU is a global campus," said Msiska. "There is no better place for me to learn freely about other cultures and meet people from around the world than here."
In the spring of 2014 she had the opportunity to meet Rwandan Genocide survivor Clementine Wamariya when Pan African Club welcomed her to TRU as the keynote speaker during International Days. That summer, TRU World asked Msiska to arrange and accompany Wamariya on visits to Zimbabwe and Zambia, promoting a new international student scholarship to bring other students like Msiska to TRU.
"Not many universities offer such opportunities to their students," she said.
Since completing her degree program in December 2014, Msiska decided to stay in Kamloops to start her career and continue learning. She attended Dr. Cornel West's Common Voices Lecture at TRU on Jan. 29, where she says she came to understand her father's passion for higher education.
"I can learn about things that are being done here that I wouldn't think of back home," she said. "For now staying in Canada and learning everything I can is something I want to do because it's a global village."
Related story
Kamloops This Week: Learning to crush stereotypes