Posted on: February 19, 2013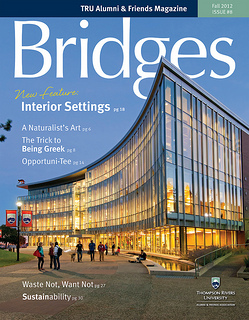 This issue of Bridges Magazine emphasizes the great impact a community can have by initiating even the smallest change. Just as the TRU community extends beyond the walls and physical boundaries of the institution, to the city, province, nation and world, connecting each of us and giving us a greater sense of ourselves, the actions we take in our community, such as supporting environmental sustainability, cultural diversity, or global citizenship, ripple outward.
As you read this issue, consider the small choices that contribute to the big picture of climate change (Waste Not, page 27 and Sustainability, page 30), and the many ways scientists can learn about the natural world (Naturalist's Art, page 6, and Intertidal, page 13).
Serving the community can take many forms, from volunteering at the local level (Being Greek, page 8) to sharing knowledge internationally (Dog Days, page 9 and Africa, page 22).
TRU researchers are giving back with projects that support marginalized groups at home (Building Blocks, page 11) and abroad (Scheffel, page 18).
As TRU's new students arrive on campus, we're doing more every year to ensure they discover all the opportunities and supports available to them (Opportuni-tee, page 14), and more quickly become a part of our vibrant community.
Read the Report to Community (page 32) to learn more about the initiatives and connections that make TRU part of the larger community around us.
Together, by belonging, caring, giving, supporting and sharing, we are building a community and a legacy greater than any one individual. Contact us at www.tru.ca/alumni to find out how you can make an impact.
Read the Fall 2012 Issue of Bridges Magazine.