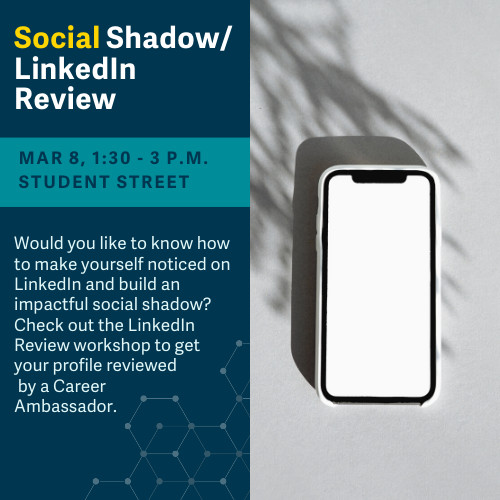 The winter semester may be in full swing, but summer jobs and post-graduation transitions are fast approaching. Meet the Career and Experiential Learning Coordinators, update your resume, polish your cover letter, practice your interview skills, discover your digital shadow and learn how to dress for success with the help of Career and Experiential Learning.
The Career Ambassadors have designed a five-part tabling series to promote Co-op, Career Services and Experiential Learning.
Potential employers will likely examine your social media presence, so cultivate a dynamic and professional social shadow. Check out the LinkedIn Review workshop to get your profile reviewed by a Career Ambassador. To learn helpful tips to increase your reach, drop by on Wednesday, March 8, from 1:30 – 3:00 p.m. in Old Main Student Street. Learn more about Career & Experiential Learning at tru.ca/cel.