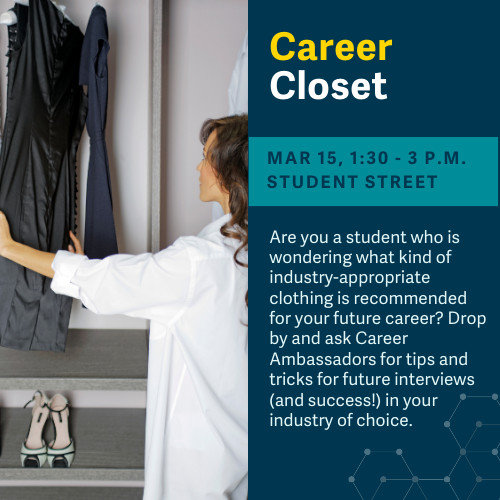 The winter semester may be in full swing, but summer jobs and post-graduation transitions are fast approaching. Meet the Career and Experiential Learning Coordinators, update your resume, polish your cover letter, practice your interview skills, discover your digital shadow and learn how to dress for success with the help of Career and Experiential Learning.
The Career Ambassadors have designed a five-part tabling series to promote Co-op, Career Services and Experiential Learning.
Are you a student who is wondering what kind of industry-appropriate clothing is recommended for your future career? Did you know we have clothing available to wear for your next interview? Drop by the CEL Career Ambassador Dress for Success Career Closet tabling event and ask for tips and tricks on how you should be dressing for future interviews (and success!) in your industry of choice.